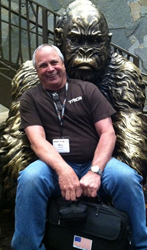 We're excited to have Bill join TRIC
Alameda, CA (PRWEB) April 18, 2016
Trenchless Pipe Bursting Manufacturing company, TRIC Tools, Inc. is pleased to announce the addition of Bill Seals to its sales team. Mr. Seals joined TRIC's sales team as Midwest Regional Director of Sales in late 2015. Bill came on board after a trip to the San Francisco Bay area. Bill comes with more than 20 years of Sales Experience at Snap-on Tools, Spartan Tools and now TRIC Tools. Bill also races Funny Cars in his spare time.
While at Spartan, Bill was one of the top salesperson for pipe bursting machine sales. Since coming on board with TRIC, Bill has shown the knowledge, spirit and determination of a top field service manager. Bill immediately connected with all of the TRIC staff members during his visit to Alameda last year. "My only concern about Alameda was that I had a hard time finding my favorite adult beverage," he said. Since February, Bill's sales have been on fire. In March, both he and Jay Battin represented TRIC in Sandusky, Ohio at the Great Lakes Trenchless Conference. Both Bill and TRIC hope that he can expand his territory to represent TRIC in the Midwest. In March, Bill worked with a contractor to pull a 80 foot 6" line beneath a swimming pool in Kansas City.
"We're excited to have Bill join TRIC, as he brings a lot of industry knowledge and construction connections to our sales team," said Michael Lien, TRIC's Operations Director. In July, Bill will represent TRIC at the ASCE Pipelines conference in Kansas City.
TRIC Tools, Inc. is an infrastructure and environmental solutions company that provides proprietary technology, tools and services for trenchless rehabilitation and replacement of sewer, water, gas and other difficult to access underground pipes. TRIC holds five U.S. and International patents for its device and method of trenchless pipe bursting. In 1997, TRIC established the standards and created the industry for lateral replacement (home's sewer line) using its pipe bursting technology. TRIC continues to re-engineer its technology for new markets, expanding upon its domestic sewer lateral tools with the introduction of innovative solutions for mainline sewer, drinking water and gas distribution pipelines.
To learn more about TRIC or the trenchless industry please call 888-883-8742 or go to their website at http://www.trictools.com.