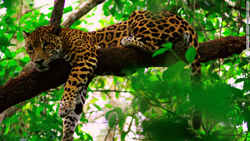 people around the world are discovering just how amazing Belize is
San Ignacio, Belize (PRWEB) April 19, 2016
The Lodge at Chaa Creek said that recently published figures showing a rise in Belize tourism proves that the best marketing strategy begins with a simple proposition – have an excellent product.
Lucy Fleming, Chaa Creek's founding co-owner and marketing director, was responding to recently released Belize Tourism Board (BTB) figures showing an historic increase in tourist arrivals during the first quarter of 2016.
The new BTB figures show an increase of 16.9% in overnight tourism arrivals over last year's first quarter, with January boasting an increase of 24%, February 18.5% and March by 10% over 2015, with March breaking records for a single month with over 43,000 overnight visitors in a rise that the BTB hailed as "historic".
"It's been another extraordinary quarter for the Belize tourism industry," Ms Fleming said, "And while we acknowledge the excellent work that the BTB and all tourism industry stakeholders have done in marketing Belize, we like to remind the public and our colleagues that what really drives visitors to our shores is Belize itself.
"No matter how well something is marketed, what attracts people at the end of the day is the product itself, and what we're seeing is that people around the world are discovering just how amazing Belize is."
Ms Fleming, who is also a past president of the Belize Tourism Industry Association, explained that Belize's tourism industry was almost non-existent before the little Caribbean country achieved independence from Great Britain in 1981, the same year her small family farm at Chaa Creek opened its doors to guests as the area's first eco-resort.
With a miniscule marketing budget and no real name recognition or marketing experience, Belize depended upon positive word of mouth to attract visitors, she said.
"Fortunately, Belize's combination of stunning scenery, diverse geography, beautiful weather and a friendly, multicultural English speaking populace struck a chord with travellers from around the world.
"As travellers, and then the travel media and magazines like National Geographic discovered just how much Belize had to offer, from the Caribbean coast with the world's second largest barrier reef sheltering over a hundred tiny islands, to the vast, pristine inland jungles containing a wealth of ancient Maya temples and abandoned cities, word got out and we saw the beginnings of a snowball effect.
"You can understand why, when Belize finally began a global marketing campaign, the tagline was 'Mother Nature's Best Kept Secret'.
"Fortunately, that's no longer the case, but what has remained is a national commitment towards protecting the environment and encouraging responsible tourism," she said.
Ms Fleming stressed that environmental sustainability was one of the main factors driving Belize's development as a tourist destination, and that this remains true today.
"In the early days many of us were young and idealistic with interests in environmental awareness and social justice. The global green movement was rising, and as members of a nascent tourism industry in a newly independent country in the 1980s we were able to tap into that, learn from mistakes made in other developing nations, and help steer Belize's tourism industry towards protecting the land we all loved while ensuring it would bring benefits to communities.
"And as a former British crown colony, Belize had a long tradition of and commitment towards democracy, the rule of law, education and health care.
"All those things combined to create the sort of country people felt comfortable to visit. Add in stunning natural features fostering a huge range of activities and you have a recipe for success. Promotion, for us, began as an exercise in letting the rest of the world know that we're here," Ms Fleming said.
"Of course, in a competitive global industry, marketing and public relations are critical to success, and Belize's public and private sector stakeholders have quickly developed impressive skills in these areas as well," she said.
Now that Belize is on the map and has a reputation as one of the world's most desirable travel destinations, the challenge, Ms Fleming said, is to ensure that future development continues along the path of environmental sustainability. It's a direction she said she feels confident that Belize will continue in.
"As a nation, and as an eco-resort, we've proven that environmental sustainability can go hand in hand with providing high quality amenities and services, and that this adds to, rather than detracts from, the bottom line.
"As these new tourism figures show, travellers worldwide appreciate that. I'm confident that Belize will continue to attract new and repeat visitors and word will continue to spread.
"No one in Belizean tourism is resting on their laurels, and it's safe to say that many of us have good reason to feel optimistic about the future," Ms Fleming said.
The Lodge at Chaa Creek is a multi award winning eco resort set within a 400-acre private nature reserve along the banks of the Macal River in Belize.
ENDS