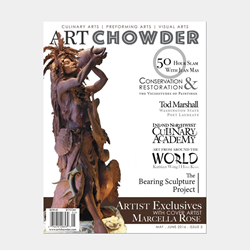 All these tools are designed to provide artists and art galleries with very low cost opportunities to network with their potential clients and develop their Brand
Spokane Valley, Washington (PRWEB) April 21, 2016
Spokane Art Collectors and friends to the artists Dean and Pam Cameron have expanded their efforts to support the arts with the recent purchase of Art Chowder Magazine. Along with the purchase of the Magazine http://www.artchowder.com, the Cameron's are owners of the Art Marketing Website http://www.flootie.com and are patrons of many emerging artists from all over the US as well as Ireland and South Africa. We are thrilled to add Art Chowder to our team. The magazine was the inspiration of a very talented artist and creative designer Rebecca Lloyd. Rebecca continues as the Art Chowder Editor in Chief. "We owe this opportunity to Rebecca's creative energy and determination to start this project," says Cameron.
Dean Cameron has a 30 year career in sales and marketing in numerous industries ranging from sporting goods to medical to aerospace. Cameron being a fan of the arts for many years was challenged by the methods and mindsets of art sales and felt he might bring a bit of his experience to his artist friends.
"I have learned to embrace "Concentric Marketing" over the years," says Cameron. "Some of my careers best success stories have come from directions I would not have expected. Too many people gravitate to the first or initially easiest source of a sale. Or they give up after one method does not work. Concentric Marketing embraces the multi-directional approach to connecting with clients. Flootie + Art Chowder will encompass Social Media Marketing, Email Marketing, Blogging, Video Marketing (we have our own T.V. Show and video production studio) and now print media with Art Chowder. All these tools are designed to provide artists and art galleries with very low cost opportunities to network with their potential clients and develop their Brand."
While Art Chowder currently provides content for mainly the Northwest region of the US we also incorporate articles about national artists as well as international artists. We have several columnists who will be writing articles that will have a universal appeal as well. "Art Chowder is available in numerous retail outlets and all major bookstore chains in the Washington and North Idaho region as well as subscriptions and download opportunities from our website," says Cameron. "Our goal is to eventually expand Art Chowder into several region specific magazines with the same encompassing "Chowder Flavor".