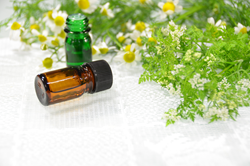 It's easy and fun to add a new essential oil to your life, and learn all about how to use it with the ONE-A-MONTH ESSENTIAL OIL CLUB. There are bonuses, too.
St. Petersburg, FL (PRWEB) April 18, 2016
The new ONE-A-MONTH ESSENTIAL OIL CLUB from Sublime Beauty Naturals® is launching soon, and those interested can get on the invited list here.
"I interviewed many people interested in our subscription service, ZEN BOX, which offers 3 essential oils per month plus a quarterly bonus," says Kathy Heshelow, founder and author of the new book 'Essential Oils Have Super Powers'. "Those who were interested but didn't sign up were mostly hindered by budget, or felt 3 per month was too much. I decided to offer a simpler option."
Shipping is free, there will be a bonus product in December, and club members get access to secret discounts on all essential oils and accessories, plus anything at Sublime Naturals (including organic soaps, skincare, body oils and for Oil Pulling.) There will be some other surprises as well. Cost is $10.99 per month.
Learn about the new subscription club here.
ABOUT: The motto of Sublime Beauty Naturals® is Make Healthy Choices, Respect Your Body, Love Nature. Offerings from Sublime are mostly organic or pure body and skin products, essential oils and aromatherapy accessories. Products are offered on Amazon and its webstore.