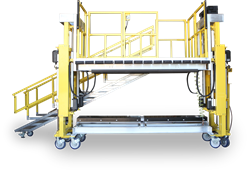 This new design allows our customers to realize much greater versatility than ever before.
Lewistown, MT (PRWEB) April 20, 2016
Spika Design and Manufacturing (http://www.spikamfg.com) today introduced a product feature that dramatically increases the versatility of its work platforms. The Dual-Stage Actuation System allows work platforms to adjust in height by three feet to seven feet or more, even when starting at a low height. The innovative design incorporates a strong and clean structure that allows for smooth actuation without interference. A video of the new design can be viewed at https://youtu.be/cNeXf4u8DHg.
Previously, work platforms were limited to height adjustability ranges of roughly one to three feet. These platforms utilized manual jacks that could not comfortably adjust over three feet, and the space requirements for longer actuators increased the required starting height for the work surface.
Spika's dual-stage design allows Spika work platforms to compete almost directly with smaller scissor lifts, which typically have a much greater height adjustability range than work platforms. However, the design offers several benefits over scissor lifts. Work platforms utilizing dual-stage legs have a clear-span bridge to allow personnel to work under and around the platform. Scissor lifts prevent this interaction due to the scissoring mechanism directly under the platform. In addition, these work platforms can provide extensive overreach via sliders and/or work deck size. This allows users to work over and around obstacles in a way often impossible with scissor lifts.
"This new design allows our customers to realize much greater versatility than ever before," said Tom Spika, CEO and Director of Design at Spika. "Highly cantilevered applications, very low starting heights with large adjustability range requirements, and simultaneous upper/lower access needs are now easily accommodated, while providing overall stability previously unattainable with tall work platforms."
The dual-stage actuation can be operated by 120VAC or fully portable 12VDC synchronized linear electric actuators that raise and lower at the same pace to ensure a level surface. The electric system removes any excess maintenance and cleanup that hydraulic systems can require.