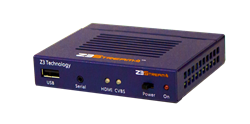 An HD H.264 video encoder small enough to fit in the palm of your hand.
Lincoln, Nebraska (PRWEB) May 17, 2016
Z3 Technology, LLC, a leader in the high performance video encoder market, is pleased to announce the release of Z3Stream, an H.264 video encoder small enough to fit in the palm of your hand. This low-cost system is capable of encoding video in resolutions up to 1080p60 in streaming formats including RTMP, RTSP and others. These features, along with its compatibility with the Wowza Streaming EngineTM and other online streaming platforms, make it an ideal solution for live event streaming.
"Z3Stream provides users a video encoder equipped with essential features for streaming high quality video, but at a fraction of the cost of other comparable products," Aaron Caldwell, CEO, Z3 Technology said. "Leveraging on our experience with our broadcast-proven ZEUS video encoders, we've created a lower cost solution for video streaming."
Measuring 3.88 (w) x 3.19 (d) x 0.81 (h) inches, Z3Stream offers HDMI®, composite and GigE interfaces. The system is easily set-up and controlled by a PC through an HTTP-based user interface.
Z3Stream's complete package is priced at $399 USD and includes one Z3Stream-01 encoder, one 5V power supply, one HDMI cable, one composite cable and one Ethernet cable. This package is readily available for purchase through Amazon.com. Learn more about this product at http://www.Z3technology.com/Products/Z3Stream.html.
About Z3 Technology
Z3 Technology focuses on providing professional grade, cost-effective solutions to meet a variety of video encoding and decoding needs. Z3's many video solutions feature the latest in compression technology, including HEVC and H.264, while delivering resolutions of up to 4K video.
All product or service names mentioned herein are the trademarks of their respective owners.
###