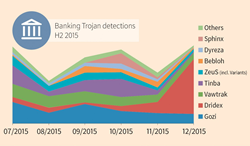 Atlanta, GA (PRWEB) April 19, 2016
Today, global security firm, G DATA, released its H2 2015 Malware Report, which found that attacks by banking Trojans mainly targeted English-speaking countries, with 80% of all target sites located in the Anglophone region. The researchers also found a significant amount of attacks by banking Trojan, Dridex in particular. The criminals behind Dridex used spam email containing fictitious invoices or supposed tax refunds to lure recipients into their trap. The massive wave of attacks was averted by the unique G DATA BankGuard technology.
"In the beginning of the second half of 2015, it initially appeared that attacks by banking Trojans had been significantly reduced," said Tim Berghoff, security evangelist, G DATA. "In fact, Swatbanker, a previously dominant Trojan, almost completely disappeared from the picture. However, in December, our researchers found that Dridex was responsible for a huge wave of attacks through phishing emails, showing that banking Trojans are clearly still a major concern."
In the second half of 2015, G DATA's security researchers also recorded a total of 2,098,062 new signature variants. The total number of new malware files for 2015 was 5,143,784 – just under the amount for 2014. Following a rapid increase in the second half of 2014 and the first half of 2015, the outbreaks appeared to have abated.
The G DATA Malware Report is available online at https://secure.gd/dl-en-pcmwr201502.
About G DATA
IT security was invented in Germany: G DATA Software AG is the antivirus pioneer. It was more than 29 years ago that the company, founded in Bochum in 1985, developed the first program to combat computer viruses. These days, G DATA is one of the world's leading providers of IT security solutions.
Test results prove that IT security "Made in Germany" offers Internet users the best possible protection. Stiftung Warentest has been testing Internet security products since 2005. In all seven tests performed between 2005 and 2014, G DATA achieved the best virus detection rate. In comparative tests by AV-TEST, G DATA regularly demonstrates the best results in the detection of computer malware. Internationally, G DATA INTERNET SECURITY has also been awarded best Internet security package by independent consumer magazines – in countries such as Australia, Austria, Belgium, France, Italy, the Netherlands, Spain and the USA.
The product range comprises security solutions for end customers as well as medium to large-sized enterprises. G DATA security solutions are available in more than 90 countries worldwide.
For more information about the company and G DATA security solutions, see http://www.gdata-software.com.