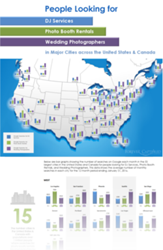 Photo booth rentals are now more popular than DJs in Los Angeles, Philadelphia, Houston, Toronto, Washington DC, San Francisco, plus 9 more big cities.
Vancouver, BC (PRWEB) April 19, 2016
In many of the biggest cities across North America, photo booth rentals are now more popular than DJs with people who are looking for entertainment at weddings, parties, and special events. Research released today by Forever Captured Photo Booth reveals that in 15 major cities across the United States and Canada, more people are searching Google every month for photo booth rentals than for DJ services. This is very significant considering the fact that Google Trends shows that only 10 years ago hardly anyone was looking for a photo booth. Back then, Wedding Photographers and DJ rentals were huge. Now that's changing.
"The photo booth has become the must-have entertainment at weddings and parties," claim John Jenkins, Founder of Vancouver, BC based Forever Captured Photo Booth Rentals that compiled the data. "For some event planners, the photo booth has replaced the traditional party DJ, and for a growing number of brides, a photo booth seems to be a higher priority than traditional wedding pictures," shares Jenkins. "A lot of brides, though, want it all," continues Jenkins. "They want a DJ, a photo booth, and a Wedding Photographer, but for those who are trying to put together a wedding on a modest budget or are more interested in making sure that everyone has a good time, the photo booth is often coming out on top. It's more affordable, it captures candid pictures of guests (including their personalities), it's a fantastic wedding favor, and it's just plain fun."
While Google Trends shows that demand for photo booths has grown dramatically over the past decade (see our infographic for details), it appears to have reached a peak in U.S. However, interest continues to build around the world including Canada where searches for photo booth rentals keep on growing.
Even though photo booths have been eroding the Wedding Photographer market share for a decade now, they still have a long way to go to catch up to searches for Wedding Photographers. "When it comes to must-have service providers at weddings, Wedding Photographers still reign supreme," says Jenkins. "In our research we found that online searches for photo booth rentals or DJ services only surpass searches for Wedding Photographers in 6 major cities in the U.S. and Canada. It's very clear that while a lot of people love photo booths, they're not completely replacing Wedding Photographers. A lot of people like to have both at their wedding. That's the new trend that we think is emerging."
Forever Captured has turned their research into an easy to understand infographic that shows the demand for photo booth rentals, DJ services, and Wedding Photographers across more than 50 major cities in the U.S. and Canada (http://www.forevercaptured.ca/infographic).
About Forever Captured Photo Booth
Forever Captured Photo Booth Rentals is a Vancouver, BC based photo booth rental company. For more information please visit http://www.forevercaptured.ca.