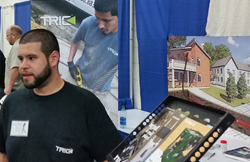 Time flew by as were hanging out with some of our happiest and best customers.
Alameda, CA (PRWEB) April 20, 2016
Pipe Bursting Manufacturer TRIC Tools participated in Alameda/Contra Costa County's 37th Annual PHCC Trade Event. Tuesday, April 12th, TRIC showcased its X30 Lateral Pipe Bursting System at the Expo 2016 at Pleasanton, CA's Alameda County's Fairgrounds. Sales Executive Jay Battin and Sales Trainer Jose Moreno represented TRIC at the event.
At the event, a number of TRIC's customers were in attendance. Both Mr. Battin and Mr. Moreno were kept busy answering questions about TRIC's pipe bursting technology. "Time flew by as we were hanging out with some our happiest and best customers," said Jay Battin. Some TRIC owners also take an active role in the local and statewide PHCC offices who were at the event as well were: Steve Ferguson of Mr. Rooter; Ray and Dan Bonnetti of Bonnetti Plumbing; and Geno Caccia, CEO of James Caccia Plumbing. John McArthur of Leap Frog Plumbing, The Plumbing Ministry, Todd Rudy of RRSC/Mr. Drain, Albion plumbing, Albert Nahman, and Harry Clark Plumbing were also in attendance.
In 1883, a group of 125 members in New York created the National Association of Master Plumbers (NAMP) to provide the public with a complete, safe and sanitary plumbing system. NAMP was the forerunner of the National Association of Plumbing-Heating-Cooling Contractors (NAPHCC), which later became the Plumbing-Heating-Cooling Contractors–National Association (PHCC). To this day,the PHCC is composed of members and groups who share a common passion for their association and industry to provide a commitment to fulfill the PHCC mission of protecting the environment and keeping our society safe. To learn more about the organization or how you can get involved, please check out their website at: http://www.phccweb.org/.
TRIC's Pipe Bursting units combine compact size and harness enough power to burst 4" to 6" laterals in an attractive package. TRIC has led the way in providing Lateral Pipe Bursting equipment for contractors since 1996.
TRIC invented and patented the first practical Lateral Pipe Bursting System while simultaneously gaining national approval of HDPE pipe for its use, thus opening the market for trenchless home sewer replacement in America. TRIC has since added municipal cable pulling systems to its arsenal, always employing their formula of modular portability, including pneumatic and steel splitting heads designed to replace various pipe sizes from 1/2" to 12" diameter.
For more information about Trenchless Pipe Bursting equipment or the Trenchless Industry in general - please call 888-883-8742 or visit TRIC's website at: http://www.trictrenchless.com to see how they can answer any of these questions for you. Get your Trenchless Sewer and Water Replacement service off on the right foot, and help get you profitably pipe bursting.