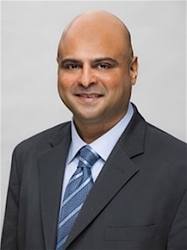 New York, NY (PRWEB) April 18, 2016
Dr. Nakul Karkare, a leading orthopaedic surgeon just performed minimally invasive hip replacement surgery on a Canadian citizen who was placed on at least a twelve month waiting list for his surgery back home. "Manny, a retired engineer in his sixties has suffered with the pain of osteoarthritis for more than a year," says Dr. Karkare, who is a joint replacement specialist. "Manny's doctors treated him with cortisone injections and physical therapy, with no improvement. His condition deteriorated and he finally decided to travel to New York City to undergo hip replacement rather than waiting any longer for his surgery to be done."
"My quality of life was reduced to almost nothing," says Manny. "I couldn't perform any of the daily functions that a normal person could possibly do, and everything was very restrictive. The reason I came to the United States to get the surgery done in the first place was because of the wait time in Canada it would be a year and a half. Where here in the U.S.,within a month my surgery was completed."
Dr. Karkare performed minimally invasive hip replacement surgery on Manny's left hip, and Manny was be able to stand up and walk with a walker the same day of his surgery. "He was walking pain free with no limp a week after the surgery," says Dr. Karkare. "Most patients recover rapidly with today's advanced techniques, and Manny will be able to return to Canada after a few days. He can return to normal activities much sooner than if he had waited for the surgery scheduling process to run its course back home."
"The day after y surgery, I was walking with a little bit of assistance from a cane," says Manny. "One week after surgery, I'm walking pain free. I no longer have the limp, and the pain is completely gone."
"Although traumatic injury can cause some types of hip pain, most hip replacements are necessitated by normal wear-and-tear that then led to osteoarthritis in the joint," says Dr. Karkare.
For more information on the latest advances in hip replacement and knee replacement surgery including anterior approach hip replacement, robot-assisted surgery and custom knee replacement visit http://www.newyorkhipknee.com and call 212.951-0182.
Dr Nakul V. Karkare is a board certified orthopaedic surgeon highly specialized in limb reconstruction and joint replacement surgery. He has operating privileges at Lenox Hill Hospital, Winthrop Hospital, St Charles Hospital, St. Catherine Hospital, Mather Hospital, Syosett Hospital, and Peconic Bay Medical Center. Dr. Karkare also serves on an FDA advisory board, under the Orthopedic and Rehabilitation Device Panel and operates seven clinics throughout Long Island and New York City.