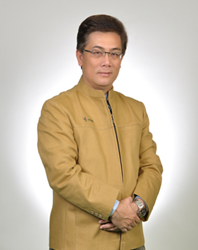 Businesses in Thailand who want to make customer and internal communications more efficient and transparent and need a cost-sensitive service management solution should not miss the opportunity to check out our presentation of OTRS Business Solution™ 5
Bangkok, Thailand (PRWEB UK) 19 April 2016
OTRS Group, the world's leading provider of open-source and cloud-based service management software solutions, today announces the new "OTRS Simple Service Management Delivery" event will take place on April 28, 2016, in Bangkok, Thailand. OTRS Sdn. Bhd., the Malaysian subsidiary of OTRS Group, will host the event with appointed business associate Proline.
Attendees will experience the new features of the service management solution OTRS Business Solution™ 5 in a software walkthrough with WK Tang, Regional Pre-Sale Manager at OTRS Sdn. Bhd. With a new responsive design and an SMS gateway, the new version improves service desk work in the field and provides automated, professionally designed reports to customer service team leaders and management. OTRS Business Solution™ 5 was released in November 2015.
The event is free of charge, but available seats are limited. Interested visitors can register here:
[https://www.otrs.com/meet-otrs-bangkok-event-otrs-simple-service-management-delivery/
Chee Peng Lee, Regional General Manager of OTRS Sdn. Bhd., explains Thailand's strategic importance: "Thailand is Malaysia's neighbor and has an active, engaged community that recently translated OTRS into Thai. Businesses in Thailand who want to make customer and internal communications more efficient and transparent and need a cost-sensitive service management solution should not miss the opportunity to check out our presentation of OTRS Business Solution™ 5 at this event."
The event offers participants a walkthrough of OTRS Business Solution™ 5 and its new features as well as the opportunity to ask the OTRS experts questions on how to use the service management software to its full potential.
A detailed agenda can be found here: https://www.otrs.com/meet-otrs-bangkok-event-otrs-simple-service-management-delivery/
To find out more about OTRS Business Solution™ 5 and start your 30-day-free-trial please visit https://www.otrs.com/otrs-business-solution-managed/
About OTRS Group
OTRS Group is the vendor and world's leading provider of the open-source OTRS Service Management Suite, including the on premise and cloud-based versions of the OTRS Business Solution™, as well as the OTRS Help Desk software and the ITIL® V3-compliant IT Service Management software OTRS::ITSM. With subsidiaries in the US, Hong Kong, Malaysia, Mexico and Brazil, OTRS Group offers managed services as well as training seminars, service support, consulting and software development to businesses that wish to increase the efficiency of their service management while saving costs and resources. Key customers include industry leaders such as NASA, IBM, Hewlett Packard, Lufthansa, Boeing, Porsche as well as 150,000 other organizations worldwide. OTRS is available in 36 languages, offers a fully responsive design to be used on every mobile device , and is used by 60 percent of the DAX 30 companies. Find out more about OTRS and our services at http://www.otrs.com