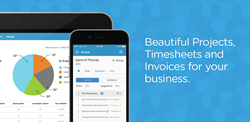 The simplest way to invoice customers on an automatic, recurring basis
Sydney, NSW (PRWEB) April 19, 2016
Cloud business platform Avaza has announced the addition of powerful and flexible Recurring Invoicing functionality, giving businesses the ability to automate any billing done on regular basis.
Avaza, whose vision and mission is to help small to medium businesses "start doing better business today", says its new Recurring Invoice functionality will offer customers convenience and save them time by automating any subscription-based invoicing.
"The feature is really easy to set-up, and offers users many flexible options to customise according to their requirements,", says Avaza Co-founder Behram Khan. "For instance, it lets you choose from flexible scheduling options, list of customer contacts who will receive the invoice, and dynamically assign names to billing periods in generated invoices, to name a few."
Avaza's makers say they have built their product keeping in mind the needs of small businesses, especially those that offer professional services, like lawyers, therapists, fitness coaches, accountants and the like. All of Avaza's features are optimised for mobile, making it easy for customers to conduct their business on-the-go.
Invoicing is a key activity to such businesses, and a paperless cloud-based solution like Avaza can bring tremendous benefits. By consolidating all activity onto a single easy to operate platform, creating an invoice becomes as easy as a few clicks. The software supports payments by Stripe and Paypal, ensuring that clients get paid quickly.
"The best thing about Avaza's invoicing is that it is linked to your overall project and task management ecosystem through the other Avaza modules, offering you 360 degree visibility on business tasks, expenses and accounting," says Avaza Co-founder Tim Kremer. "For instance in this case, you have a streamlined and easy way of including any uninvoiced timesheets and expenses into your recurring invoice set-up."
Users can sign up for a free account and test the software out, before opting for a paid plan which comes within a highly affordable range of $9.95/month to $39.95/month.
About Avaza.com
Avaza is a cloud-based online software suite built for small to medium size businesses. Its modules for invoicing, project management & collaboration, expense management & time tracking can be used together or independently to suit a wide range of businesses. Avaza was founded in 2012 by Australian entrepreneurs Tim Kremer & Behram Khan, who were seeking to provide an all-in-one professional services automation suite for SMEs. Today it is used by over 5000 companies in 120 countries. Visit http://www.avaza.com to sign up.
Tim Kremer
Co-founder Avaza.com
Twitter: @avazahq
https://www.avaza.com
Press Kit: https://www.avaza.com/press-area/
Avaza Explainer Video: https://www.youtube.com/watch?v=2u2FoZagTBg
###