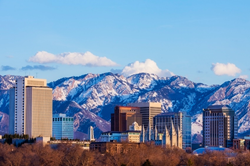 "Landon and his team will instantly establish New Penn in the Salt Lake City and Las Vegas markets."
Philadelphia, PA (PRWEB) April 20, 2016
New Penn Financial today announced the hiring of Regional Manager Landon Moser. A veteran of the Marine Corps who is widely respected in the mortgage industry, he will oversee New Penn's Salt Lake City and Las Vegas branches. While New Penn already has a sizable presence in California and Arizona, these are the company's first offices in Utah and Nevada, as the Philadelphia area based private lender continues to grow in the west.
Mr. Moser has been in the mortgage industry for over nineteen years, spending ten of those years running his own mortgage brokerage. At his previous company, he grew volume in his Nevada and Utah branches five-fold over a three year period. He decided that New Penn was the place that offered him the best opportunity to continue his branch's expansion. "New Penn has the solid company structure along with the respected reputation of leadership within the company," he said.
"Landon Moser is a proven leader who is followed by growth wherever he goes," says Brian Mitchell, Executive Vice President of Retail Lending. "As we continue to expand our retail business across the country, Landon and his team will instantly establish New Penn in the Salt Lake City and Las Vegas markets."
About New Penn Financial
New Penn Financial® continues to assemble deeply experienced and highly seasoned industry leaders making us one of the fastest growing lenders in the nation. As a direct lender and servicer, we have positioned ourselves to be able to provide loans that serve a variety of scenarios. This allows us to assist more customers while maintaining the highest compliance standards and ensuring great customer service at every stage. Our leadership has successfully and strategically directed their teams to be prosperous during the downs of a challenging economy while capitalizing on the potential of a robust one. This depth of wisdom and focus on quality allows us to innovate with confidence, develop superior products, provide exceptional service and support, and back it up with the kind of solid foundation that is renewing the American Dream, all across the country.