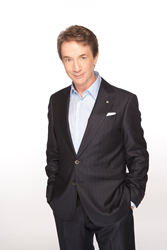 New Brunswick, NJ (PRWEB) April 18, 2016
State Theatre presents Martin Short for the State Theatre's 2016 Benefit Gala on Saturday, April 30, 2016 at 6pm. Performance only tickets range from $35-$85. Gala tickets are $700.
The State Theatre's 2016 Corporate Honoree is Aon Hewitt. The Patron Honoree award will be presented to Joan and Robert Campbell and this year's Leadership in the Arts Honoree is Greater Media New Jersey.
"The support of these honorees has had an incredible impact on the State Theatre and the community and we are truly grateful for their outstanding dedication," said Tom Carto, State Theatre President & CEO.
Gala Information
The Gala festivities begin at 5pm at The Heldrich Hotel and the performance will begin at 6pm. In addition to the show, Gala guests will enjoy a pre-performance cocktail reception, post-performance dinner dance with an open bar, fabulous auctions, and live entertainment. The Benefit Gala, the State Theatre's biggest annual event, underwrites the State Theatre's artistically acclaimed programming and nationally recognized education programs. A portion of each ticket price represents a tax-deductible contribution to the State Theatre. Performance tickets range from $35-$85. For performance only tickets, call 732-246-SHOW (7469). Benefit Gala tickets are $700. For Benefit Gala tickets please call 732-247-7200, ext. 543.
The 2016 Benefit Gala Co-Chairs are Brent (TCNJ) and Susan Podlogar (Johnson & Johnson, State Theatre Trustee) with support from Vice-Chairs Scott Fergang (State Theatre Vice Chairman) of RBC Wealth Management and Jacqueline Hancock-Pena (State Theatre Trustee) of Investors Bank.
About the Gala Artist
Martin Short presents an unforgettable night of fun and sidesplitting laughter. This hilarious variety show features Short as some of his most memorable characters—including Ed Grimley and Jiminy Glick—plus funny clips from Short's career, songs, and lots of audience participation.
Short, who recently appeared in the 40th anniversary TV special for Saturday Night Live, is a celebrated comedian and actor, who has won fans and accolades in television, film, and theater since his breakout season on SNL almost 30 years ago. His popularity and exposure on SNL led Short to cross over quickly into feature films including Three Amigos, Inner Space, Three Fugitives, Clifford, Pure Luck, Father of the Bride, and Father of the Bride Part II. He also won a Tony® Award for Leading Actor in a Musical for the 1999 Broadway revival of Little Me.
For tickets or more information, call the State Theatre ticket office at 732-246-SHOW (7469), or visit us online at http://www.StateTheatreNJ.org. The State Theatre ticket office, located at 15 Livingston Ave, New Brunswick NJ, is open Monday through Friday from 10am to 6pm; Saturday 1pm to 5pm; and at least three hours prior to curtain on performance dates unless otherwise specified. For information on group outings and discounts, call 732-247-7200, ext. 517. Some additional ticket and transaction fees may apply.
State Theatre, a premier nonprofit venue for the performing arts and entertainment. The theater exists to enrich people's lives, contribute to a vital urban environment, and build future audiences by presenting the finest performing artists and entertainers and fostering lifetime appreciation for the performing arts through education. The State Theatre's programs are made possible, in part, by funding from the New Jersey State Council on the Arts/Department of State, a Partner Agency of the National Endowment for the Arts, and contributions from numerous corporations, foundations, and individuals. The Heldrich is the official hotel of the State Theatre. Magic 98.3 is the official radio station of the State Theatre. The Star-Ledger is the official newspaper of the State Theatre. United is the official airline of the State Theatre.
STATE THEATRE
15 Livingston Ave
New Brunswick, NJ 08901
Ticket Office - 732-246-SHOW (7469)
Online - http://www.StateTheatreNJ.org
PHOTOS AND INTERVIEWS FURNISHED UPON REQUEST
Please contact Kelly Blithe at 732-247-7200, ext. 542 or by email at kblithe(at)StateTheatreNJ(dot)org.
Up-to-the-minute information on events and State Theatre news, online at http://www.StateTheatreNJ.org.