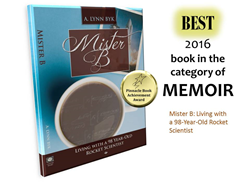 This 2016 NABE award winner, Mister B, in the category of memoir, is a nice Father's Day gift and for parents and grandparents on their special day,
Denver, Colorado; Washington D.C.; Huntsville, Alabama (PRWEB) April 21, 2016
The humorous, aerospace memoir, Mister B, at 350 pages (soft cover), has received the North American Booksellers Exchange Pinnacle Achievement Award in the category of Memoir. Mister B, is also available in cloth with dust jacket, offering 25 autographed photographs from the old man's cache. It can be found in the grumpy ol' men's section at Barnes & Nobel, and local libraries, because it is classified for being a book about aging older men, relegated to the tiniest section of the shelf, at the back.
"I am hard-pressed to find another success story that gives such hope to poor children of Polish immigrants," reports Denver retired teacher and mentor Susan Summers. "It charms the bejeebies out of the Greatest Generation, and Lockheed Martin. M-i-s-t-e-r B, born in 1916, is the Rhode Island son of non-English speaking immigrants. His aerospace memoirs capture tales from hand-me-down-baggy-pants-poverty to becoming a self-made man. Joseph Byk begins school as a disruptive and uninterested student. By the end of his senior year at Woonsocket High, the joke's on him! He regrets his missing geometry lessons. Why? Because suddenly, he aspires to design vehicles that defy gravity."
The story begins, however, in the reticent voice of the woman who is about to lose her home in foreclosure. She finds herself becoming cook and chauffeur to the cranky old man who tries her patience in every way. She tries to convert the scientist to Christianity, throughout the tale, to woeful ends. Thrust together, the unlucky duo discovers that each of them still matter.
In 1932, the tale turns on a dime when Joe Byk's high school counselor helps him enroll in Auburn University-(Alabama Polytechnic) to hone up on his math deficiency and proceed to the University of Alabama. These were inexpensive land grant colleges for children of poor means.
Turns out after graduation, Mister B's career begins with his childhood paper boy credentials. He is given a recommendation on the back of a Rhode Island Newspaperman's business card. With that reference, young Byk traverses to Vultee, in Downey, California, where he helps to engineer basic trainer war planes. When, at the beginning of WWII, he transfers to the Glen Martin Company in Baltimore, Maryland, he continues to perform stress analysis on space craft throughout the cold war.
If you can waft through the myriad of autographed photos and believe the story, Byk eventually helps to design the space shuttle Gemini, the tripod for the first moon landing gear of the Viking Lander and the beginnings of Google Earth. He helps to design the BT-13, the Vibrator, the repairs to the broken FDR carrier, and the first man-rated spacecraft capsule and dome.
"This NABE award winner, Mister B, in the category of memoir, is a nice Father's Day gift and for parents and grandparents on their special day," nods Sue Lockwood Summers, who is the author Get Them Thinking! and Changing the World through Media Education. "I took it traveling with me and was enthralled to the end. With aging couched in the pillows of wit and kindness, MISTER B exudes inspiration from history. He encouraged me to give a little more to family relationships, and to seek scientific answers to life's little perplexities."