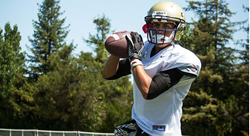 We are looking forward to bringing this amazing skills camp to Ohio this summer.
San Rafael, CA (PRWEB) April 21, 2016
This summer, US Sports Football Camps will be in Toledo, Ohio at Witmer High School. Directing the US Sports Football Camp Elite Athletic Academy is Brandon Carter, an accomplished football coach, former NCAA Division 1 and Arena Football player.
Brandon was Northwest Ohio Offensive Player of the Year, as well as first team All-Ohio his senior season. Brandon was a part of the 2001 Mid-American Conference Championship team that finished 23rd in the AP Poll and 22nd in the USA Today, Brandon was also named honorable mention All-American by USA Today. Brandon has been a high school coach for the past 11 seasons in Toledo and has coached several All-League, All-District, and All-Ohio players during his career. Brandon will be accompanied by an all-star coaching staff made up of NFL players and Professional collegiate coaches, Jalil Carter (St. Louis Rams, Minnesota Vikings), Corey Pargo (Ohio State, WFL), Jeff Ziglus (U. Michigan, Notre Dame), and Phil Harrington (Adrian College, Kalamazoo College, Knox College.) Each coach brings a unique set of skills, a vast amount of knowledge and great enthusiasm for this US Sports Football Camp, creating a fun and inspiring environment.
"We are looking forward to bringing this amazing skills camp to Ohio this summer. Coach Carter has compiled an impressive staff of current and former college and professional players and coaches to instructor our campers," states Mike de Surville, Senior Vice president of US Sports.
US Sports Football Camps provide focused, intensive training that is essential to improvement for all skill levels. Every facet of the game is covered with an emphasis on fundamentals to help players become valuable team members. At each location, campers are broken into groups with other players of similar age, abilities and goals. Each camp director does their best to advance players to the next level, keeping in consideration each camper's experience and desire to improve.
Players, Coaches, Parents and others interested in the 2016 US Sports Football Camps can visit http://www.ussportscamps.com/football or call 1-800-433-6060.
About US Sports Camps
US Sports Camps (USSC), headquartered in San Rafael, California, is America's largest sports camp network and the licensed operator of Nike Sports Camps. The company has offered summer camps since 1975 with the same mission that defines it today: to shape a lifelong enjoyment of athletics through high quality sports education and skill enhancement.