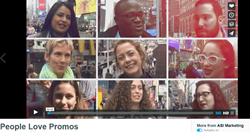 "Too often, we substitute surveys and research for in-person conversations about promotional products," said ASI CEO Timothy M. Andrews
Trevose, PA (PRWEB) April 18, 2016
The Advertising Specialty Institute® (ASI) today released a snappy new video that showcases positive consumer testimonials about the usefulness, effectiveness and attractiveness of logoed products.
For its 2-minute video, "People Love Promos," ASI visited New York City's Times Square to interview people from throughout the U.S. – as well as tourists from England, Ireland and Germany – about promotional products they've given or received. Their comments support findings in ASI's 2016 Global Advertising Specialties Impressions Study, which concluded that promotional products are the most highly regarded form of advertising and that 85% of people can recall the advertiser that gave them a logoed item.
Testimonials from women and men, ranging in age from their 20s to their 60s, include: "I own lots of branded promo products, and the firm I used to work for used lots of branded products for clients and events" and "You name it, I have it. If it has a Broadway logo on it, I'm happy."
"Too often, we substitute surveys and research for in-person conversations about promotional products," said Timothy M. Andrews, president and chief executive officer of ASI. "The best part of our new video is that it captures the genuine love and enthusiasm people have for logoed products while showing the value the brands give them."
High-value promotional products, aka logoed or imprinted items like pens, caps and T-shirts, are often given away by companies, schools and non-profits to help advertise their brand or event, or to thank clients and employees.
For the 2016 version of its annual ad impressions study, ASI looked at the most influential products by state, for all 50 states, and determined differences in preferences by urban density, gender and age, which will help distributors in every county in the U.S. make targeted recommendations to clients based on location and objectives.
The report also shows that the potential influence of green and made-in-the-USA products varies dramatically by region.
Click here to read, download and share the report and infographics. Below are some report highlights:

Popularity: The average American owns 10 promo products.
Tech: Logoed mobile power banks, a relatively new item in the promotional industry, are owned by about one-quarter of consumers.
Value: The cost per impression (CPI) of promotional products can be as low as 1/10 of one cent, lower than nearly any other advertising medium.
To learn more about ASI's Global Advertising Specialties Impressions Study, contact ASI's Market Research Director Nate Kucsma at nkucsma(at)asicentral(dot)com.
About ASI
The Advertising Specialty Institute (ASI®) serves a network of 25,000 suppliers, distributors and decorators in the $22 billion promotional products industry.