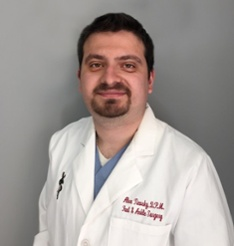 Any patient who has a foot or ankle disorder invoking a bone will benefit from a CT scan
New York, New York (PRWEB) April 20, 2016
New York podiatrist Dr. Alex Tievsky of Adler Footcare of Greater New York will be presenting as a featured speaker at the FIP World Congress of Podiatry in Montreal, Canada May 26-28, 2016. He will discuss how the advancements with weight bearing CT imaging are being used in the field of podiatry for precise preoperative surgical planning for the foot and ankle, as well as expose patients to less radiation.
Any patient who has a foot or ankle disorder invoking a bone will benefit from a CT scan. The field of podiatry has been using weight bearing x-rays to obtain more detail while the foot is being loaded. A weight bearing CT is the next step to viewing a loaded foot in three dimensions, which can detect exact bony orientation needed for surgical planning.
"Weight bearing CT's are not used enough in podiatry because most hospital CT machines are non-weight bearing," Dr. Tievsky said. "The biggest problem was always that CT's emitted a lot of radiation. With our current pedCAT machine at Adler Footcare we keep the radiation to around the same levels as three x-ray views."
The CurveBeam pedCAT adds a new dimension to diagnosis and treatment planning, allowing for CT imaging under true physiological weight bearing loads and fast patient scans of one or both feet, leading to more successful foot surgeries.
The FIP World Congress of Podiatry is held every three years and attracts participants from around the world, including podiatrists in private practice, the public sector, the educational stream and students. You can also expect to meet vascular surgeons, nurses, diabetologists and other members of the medical team. The exhibit hall is an integral part of the World Congress that enables delegates to see a wide array of foot related products and services from around the world.
Dr. Tievsky will also be leading a cadaver lab the day before the conference.
For more information, contact Adler Footcare of Greater New York, a HyProCure® Center of Excellence at (212) 704-4310 or visit http://www.mynycpodiatrist.com.
About Dr. Alex Tievsky
Dr. Alex Tievsky, a graduate of the New York College of Podiatric Medicine, is well-versed in all aspects of Foot & Ankle Surgery. He is a master HyProCure® surgeon designated by the Graham International Implant Institute, and has completed a 3-year Podiatric Medicine and Surgery residency program with extra certification in Reconstructive Foot & Ankle Surgery, at Forest Hills Hospital North Shore LIJ.
Dr. Tievsky is Board Certified by the American Board of Podiatric Medicine and also Board Qualified in Foot Surgery by the American Board of Foot and Ankle Surgery. Prior to going into Podiatry, Dr. Tievsky had completed his bachelor's degree in biochemistry from Hunter College in New York City. Dr. Tievsky is fluent in English as well as Russian.