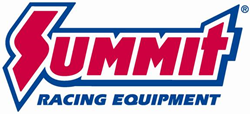 Tallmadge, OH (PRWEB) April 25, 2016
Summit Racing now offers PowerNation TV Engine Power Project 557 Ford Parts Combos. The Engine Power team took a long forgotten 460 Ford, bored it out to 557 cubic inches and cranked out 754 horsepower and 664 lbs.-ft. of torque on the dyno naturally aspirated--and a whopping 1,080 horsepower and 1,119 lbs.-ft. of torque when sprayed down with an NOS Big Shot nitrous kit.
You can see all the wrench-spinning and dyno-twisting action at PowerNation TV:
Project 557 Ford Naturally Aspirated
Long Block Combo
There's no better way to make monster power than with monster cubic inches. Engine Power based its 557 on a Ford 460 block and an Eagle stroker kit with a 4.500-inch stroke forged steel crank, forged steel H-beam connecting rods, and forged aluminum flattop pistons with plasmamoly rings. The custom-ground Comp Cams solid roller cam has 266°/278° duration at .050 and .763/.773 inch lift at the valve. Trick Flow PowerPort® 320 cylinder heads substantially increase power and reduce engine weight. Other bits included Comp Cams lifters, Cometic MLS head gaskets, Trick Flow roller rocker arms, Melling high volume oil pump, and ARP bolts and studs.
Induction and Ignition System Combo
With the long block buttoned-up, it was time to focus on the induction and ignition systems. Trick Flow's R-Series intake manifold makes gobs of power and perfectly complements the Trick Flow heads. An 1,150 cfm Holley Gen 3 Ultra Dominator mixes the air and fuel required to feed a 557 inch engine, and an NOS Big Shot nitrous system brings more than 300 HP and 400 lbs.-ft. of torque to the party. An MSD Pro-Billet distributor and Accel Extreme 9000 plug wires light the fires in the cylinders.
Completer Combo
By this stage, the Engine Power boys needed to wrap up a few odds and ends before letting the 557 loose on the dyno. That's what this Completer Combo is for. First up was to add some color—Gloss Blue Anodized Metalcast Paint from DupliColor to be specific. Trick Flow valve covers provide some much-needed bling, while a Meziere water pump was installed to help keep engine temps in the safe zone. A PowerBond balancer keeps unwanted vibes from shaking the engine to death, and Pennzoil Ultra Platinum oil ensures internal parts are properly lubricated.
Summit Racing Equipment
http://www.SummitRacing.com
1-800-230-3030