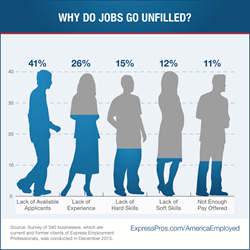 Too often, business can't find the right people, and as this survey suggests, sometimes they just can't find people at all
Oklahoma City, OK (PRWEB) April 20, 2016
Express Employment Professionals released new survey results today revealing why open jobs go unfilled.
The findings come from a survey of 340 businesses. Respondents were asked, "What is the primary reason that your open jobs go unfilled?"
The number one answer, given by 41 percent of respondents, was "lack of available applicants."
Another 26 percent chose "lack of experience," while 15 percent said "lack of hard skills."
These results track closely with the results from each quarter of 2015 except for the percentage of respondents who chose "lack of available applicants." That number was seven percent higher than the first quarter of 2015.
"This is a common theme we have heard for a while—even when the unemployment rate was higher. Too often, businesses can't find the right people, and as this survey suggests, sometimes they just can't find people at all," said Bob Funk, CEO of Express, and a former chairman of the Federal Reserve Bank of Kansas City. "In some ways, this is good news. It suggests that more people are going back to work. But it also reaffirms a troubling trend: the mismatch between the skills people have and the skills employers need. Not only does that keep workers unemployed, it can also drive some to give up on looking for work altogether—and that's tragic."
The survey of 340 businesses, which are current and former clients of Express Employment Professionals, was conducted in December 2015.
If you would like to arrange for an interview with Bob Funk to discuss this topic, please contact Sherry Kast at (405) 717-5966.
About Robert A. Funk
Robert A. "Bob" Funk is chairman and chief executive officer of Express Employment Professionals. Headquartered in Oklahoma City, the international staffing company has more than 760 franchises in the U.S., Canada and South Africa. Under his leadership, Express has put more than 6 million people to work worldwide. Funk served as the Chairman of the Federal Reserve Bank of Kansas City and was also the Chairman of the Conference of Chairmen of the Federal Reserve.
About Express Employment Professionals
Express Employment Professionals puts people to work. It generated $3.02 billion in sales and employed a record 500,002 people in 2015. Its long-term goal is to put a million people to work annually. For more information, visit ExpressPros.com.