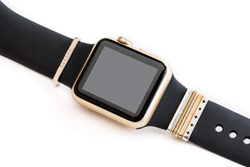 "Our goal is not to hide or disguise these wearables but rather to make them uniquely 'yours,'" - Jodi Slater, CEO and founder of Bytten.
Cambridge, MA (PRWEB) April 19, 2016
Bytten, the preeminent wearable tech accessory brand, announces today the release of its newest collection, Wearable Stacks, designed for the Apple Watch. The inspiration comes from the desire to add a personal touch to the Apple Watch without interfering with its clean lines and sleek design. Varying in width, style, and finish, the metal stacking rings and clasp can be mixed and matched to create custom and unique looks.
Two curated stacks will launch the collection: Classic and Glam. The Classic Stack™ consists of rings in mixed premium metals, while the Glam Stack™ adds crystal adornments to its premium metal rings for a hint of sparkle. Both include a sterling silver clasp plated in finishes designed to coordinate with the stainless steel (silver and space black) and aluminum (silver, gold, rose, and space gray) Apple Watch faces. The Classic and Glam stacks will also be available for Fitbit Blaze, Alta, and Charge & Charge HR later this spring.
"The Stacks collection was created in response to demand from our customers for more fashion-forward accessories for the most popular wearable tech products," says CEO and founder Jodi Slater. "The collection can be easily adapted to fit different bands and devices and adds an additional layer of personalization – a feature that has already proven so successful in the jewelry market. Our goal is not to hide or disguise these wearables but rather to make them uniquely 'yours.'"
The newest launch is one of several for the brand over the past 12 months. In November 2015, Bytten announced the release of a capsule collection with Target stores nationwide and online, and in December the brand collaborated with renowned jewelry designer Orly Genger by Jaclyn Mayer to create a limited edition piece. In 2016, Bytten has already launched a 10K solid gold piece and its Symbol collection in January and March respectively. The year has also been one of growth for the brand with retail expansion online to Best Buy, Kohl's, and the curated site AHALife.
Launched in August 2014, Bytten is transforming wearable tech devices, like smart watches and fitness trackers, into ultra-chic accessories. Founder Jodi Slater realized that she was shedding her tracker during social occasions, deeming the plain band too utilitarian-looking to wear. Not any more. Pieces vary from minimalist to ornate, easily slide onto the bands of the most popular Fitbit and Apple bands, and add a level of sophistication and luxury to the devices without interfering with their functionality.
Wearable Stacks will initially be sold on the brand's website, bytten.com with the first designs starting at $125.
For more information on Bytten and its latest launches and retail expansions, or to obtain images of the new Wearable Stacks collection, please contact Catherine Pope at Catherine(at)cppublicrelations(dot)com.