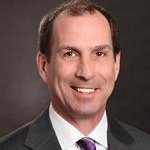 Jim's expertise and accomplishments align with New Penn's mission, making him a perfect fit for further strengthening our third party partnerships.
Plymouth Meeting, PA (PRWEB) April 19, 2016
National mortgage lender New Penn Financial announces the appointment of Jim Wyble as Senior Vice President, Third Party Originations (TPO). Wyble is charged with overseeing both the East and West TPO divisions, uniting the leadership, direction, and growth of the channel. He will be based out of Des Moines, Iowa, regularly traveling throughout the country.
Wyble brings over 30 years of experience in financial services, including senior management roles in mortgage sales and operations, commercial lending, and mergers & acquisitions. Wyble's resume includes leadership positions at Pacific Union Financial (EVP/Head of Wholesale & Retail), Capital One (VP, National Sales Manager), and various roles in the Wells Fargo organization (Institutional Lending, Home Equity Lending, Commercial Lending, and Branch Management). Jim holds a B.S., Business Management/Marketing, from Elmira College.
"Jim has built organizations and successful teams throughout his career. His expertise and accomplishments align with New Penn's mission, making him a perfect fit for further strengthening our third party partnerships and growing this important business segment," said Amy Brandt Schumacher, President, Mortgage Originations & Corporate Technology for New Penn Financial. "We're thrilled to have Jim join us, and I believe that he will lead the channel into its next stage of growth, achieving true best-in-class systems and client service."
About New Penn Financial
New Penn Financial has become a leading nationwide lender by bringing expertise, extremely competitive rates on a broad portfolio of mortgage products, and exceptional customer service under one roof. Founded in 2008, and licensed in 48 states, the company and its reputation have grown rapidly under the guidance of a management team with years of experience in the mortgage industry. New Penn is headquartered in Plymouth Meeting, Pennsylvania and operates offices nationwide. New Penn is a Shellpoint Partners company. More information is available at http://www.newpennfinancial.com.
About Shellpoint Partners LLC
Shellpoint is a specialty finance company focused on the U.S. residential mortgage market. One of its primary goals is to provide additional options and liquidity to quality borrowers who do not fit the existing underwriting criteria for Agency or government-backed mortgages. Shellpoint hopes that providing these additional options and liquidity will help the housing market recover through the return of private capital and the expansion of access to mortgage credit for such borrowers. As an RMBS issuer and industry participant, Shellpoint is also committed to helping define the new market standards and practices that will support the growth of a healthy and responsible RMBS market. For more information, please see the Company's website at http://www.shellpointllc.com.