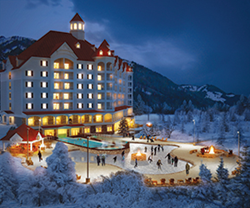 "We want our guests and owners of RiverWalk to experience something exceptional and our new resort embodies this vision"
Lincoln, NH (PRWEB) April 19, 2016
With the opening planned for May 2016 in Lincoln, New Hampshire, RiverWalk Resort at Loon Mountain's phase 1 of development is nearing completion. Construction of this architectural centerpiece of Lincoln, consisting of the first 79 of the total 170 proposed luxury suites is shaping up to be the newest grand resort in New Hampshire. This seven story structure is the tallest building north of Concord, NH reaching 188 feet high, and its presence in the White Mountains rivals that of famed resorts like the Omni Mount Washington and the Balsams Resort.
"We want our guests and owners of RiverWalk to experience something exceptional and our new resort embodies this vision," said Dennis Ducharme, president of RiverWalk at Loon, LLC. "We are building this resort with several luxurious amenities that are firsts in the industry." The wide range of planned amenities at the resort are extensive and unique including a first of its kind commercial winery and upscale Italian restaurant. Other on-site amenities at RiverWalk include a full-service spa, state of the art game room, and luxury owner's club. Another first is the engineered indoor/outdoor swimming pool that converts to an ice skating rink during the winter. The pool boasts the only technology utilized in the United States that will allow it to be transformed into an ice skating rink during the winter months. "This development is an immense transformation from the paper mill of yesteryear to what it is today," adds Ducharme.
Luxury suites at this mixed-use, fractional ownership resort hotel are appointed in a mountain-river theme. One, two and three bedroom suites all include full kitchens and master bedrooms with soaker tubs. All the sleeping quarters within this magnificent resort boast sensational views of the White Mountains and Loon Mountain Ski Resort.
Phase 2 of the resort is slated to start construction in 2017 along with the Doppelmayr Gondola that will cross the Pemigewasset River and will land resort guests at the base of Loon Mountain. The gondola consists of six cabins with an eight passenger capacity (per cabin) and utilizes a pulsed movement ropeway allowing the cabins to never completely stop. The next phase will also include additional retail shopping and dining, open to the public. It has also been hinted that a vineyard will be planted along with the expansion of the winery on the sprawling grounds of RiverWalk Resort at Loon.
The grandeur of this new resort facility will undoubtedly raise the level of hospitality in the Western White Mountains. Reservations are being accepted now for June arrivals and a grand opening event is scheduled for later that month.
RiverWalk at Loon, LLC is the resort development project started by accomplished resort developer, Dennis Ducharme of Lincoln, NH and Hyannis, Cape Cod, MA. Mr. Ducharme is the President of InnSeason Resorts, a collection of vacation ownership resorts across New England known for their unique style of yankee hospitality and luxury accommodations. RiverWalk Resort at Loon is a full-service, resort and fractional ownership hotel at Loon Mountain in Lincoln, New Hampshire. For more information, please visit http://www.riverwalkatloon.com