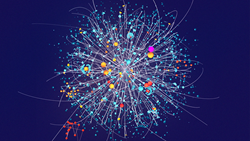 We wanted a film that was meaningful, authentic and didn't look like every other college promo video,
Chicago, IL (PRWEB) April 19, 2016
Mode Project, a Chicago-based design and production studio that has created brand films for clients that include Frontgate, United, LiveOne and Gogo, has released a new collaboration with Northwestern University's McCormick School of Engineering. The piece, titled 'A Different Way Of Thinking,' explores the school's unique "whole-brain" approach to engineering.
The 90-second film combines design, motion graphics and live action with audio sourced from 16 hours of interviews with McCormick faculty and students. It was designed to serve as a "movie trailer" that engages an audience of prospective students and faculty, alumni, donors, partners and more, enticing viewers to learn more about one of the world's leading engineering institutions.
"We wanted a film that was meaningful, authentic and didn't look like every other college promo video," said Kyle Delaney, Northwestern Engineering's Executive Director of Strategic Initiatives and Marketing. "Engineering is complex, and rather than reduce and simplify our work, we wanted a film that embraced that complexity and spoke to the people that we actually want to attract: those who welcome hard challenges. Not only did Mode Project accomplish that with this film, but we've been seeing tremendous engagement on it, across a number of channels."
The Mode Project team worked closely with Delaney and McCormick dean Julio Ottino to create a film that would address the school's communications goals.
"When you only have 90 seconds to tell such a big, intricate story," said Mode Project Principal and Creative Director Colin Carter, "you have to get creative about how you approach things. We knew that the McCormick team wanted to show that there's a lot going on here, so we created a very active, immersive story that doesn't really slow down anywhere along the way. We're very proud of the final piece, and we're even more proud to help the school achieve their brand goals with our work."
'A Different Way Of Thinking' is Mode Project's second recent engagement in the higher education industry, following a collaboration with another Chicago school, DePaul University.
"Just like big corporate brands," Carter added, "schools want to better control and share their story, and films, when approached the right way with an eye toward brand goals, can be a powerful way to do that."
In addition to its education work, Mode Project also collaborates with some of the world's leading ad agencies to produce campaigns for brands such as Boeing, Ore-Ida, Illinois Office of Tourism, and CDW.
About Mode Project:
Mode Project creates meaningful content to help agencies and brands achieve their communications goals. The Mode team offers concept development and creative services for broadcast and digital media, including production, design, animation, editorial and finishing.
Visit http://www.modeproject.com for more info.