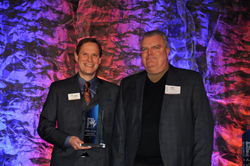 Thanks to Bill and others like him, the future of the profession in terms of recruiting talented, diverse CPAs is very bright.
Indianapolis, IN (PRWEB) April 18, 2016
William "Bill" Sharkey, CPA, JD, recently received the College Mentors for Kids' 2016 College Mentor of the Year in the Accounting, Legal & Finance category. Sharkey has championed student initiatives at his own firm - PricewaterhouseCoopers, LLP - and with the Indiana CPA Society's diversity initiatives. Sharkey has said that working to diversify PwC in Indiana has been one of the most rewarding efforts of his career.
"When we gather as CPAs, it is important to look around and observe our lack of diversity," said Sharkey. "I have done this within and outside of my organization. It is striking how far our makeup differs from the general population. A team of people with differing backgrounds will be more creative and successful than a homogeneous team. The profession will be better as it diversifies, and we will all learn more as it changes."
Sharkey also has been involved with the INCPAS Scholars program since its inception in 2011. The Scholars program is a free, statewide, year-long career awareness and mentorship program for minority high school students. It is the only program of its kind for any CPA society and has seen many successes and subsequent awards, due in large part to the significant contributions of dedicated members like Sharkey. Since 2011, 105 students have participated in the program with 75 percent going on to major in accounting and/or business. To date, all but three program graduates have stayed in Indiana for college.
"The reach and success of the Society's diversity programs would not be possible without the contributions of dedicated members such as Bill Sharkey," said INCPAS President & CEO Gary Bolinger. "Bill has been instrumental in making our INCPAS Scholars program a model program for diversity recruitment and mentorship in the CPA profession. Thanks to Bill and others like him, the future of the profession in terms of recruiting talented, diverse CPAs is very bright."
Sharkey has been a member of the Indiana CPA Society for 20 years. His contributions in the area of diversity have been significant. Some of his specific volunteer activities follow below.

Game On: CPAs in Action. Game On is INCPAS' half-day career awareness program for minority high school students interested in accounting. The annual fall event started in Indianapolis in 2008 and now includes programs in South Bend (April 29), Fort Wayne (May 3) and Northwest Indiana (May 10). The day includes an overview of the CPA profession, panel discussion featuring young professionals, a business etiquette workshop, interactive case studies and firm, company or college visits. Most years, Sharkey walks students from the Indianapolis event location back to his office, shows them around PwC and then participates in a Q&A discussion with the students. Equally important, he ensures his team members have time to dedicate to the program.
INCPAS Scholars program. Sharkey has actively supported the INCPAS Scholars program since it started. He is strategic about selecting staff who will be the most effective and motivational mentors, helping to make PwC's Scholar/Mentor relationships so successful. Even after Scholars graduate from the program, Sharkey remains invested in PwC's matched Scholars, He is an advocate for the students and actively supports them in building their professional network.
Will Clinkscales, a Scholar graduate from the inaugural class, will graduate with a degree in accounting and finance this May from IUPUI. Sharkey and Clinkscales met at the welcome dinner and stayed in contact throughout his entire college career. Clinkscales went on to intern at PwC and has accepted a position with the firm. After five years of investment and service, the outcome of Sharkey's efforts toward the first group of students will be realized.
Alumni Ambassador Workshop. At the annual program for outgoing and former Scholars, Sharkey has served as a speaker, having an open dialogue with students about college, lessons in leadership, what they can do to prepare and how to be successful in their future careers.
INCPAS Leadership Cabinet / Emerging Leaders Alliance. This past fall, he and fellow Scholar mentor, Joe Kalule, CPA, from EY, talked to INCPAS leadership about the importance of diversity and inclusion in the profession, and the business case for why it matters.
"The award is recognition for six years of dedication to mentoring young men and women with regard to their college experiences and their careers," added Sharkey. "I must say I was very excited to win but was also very impressed by the dedication and sacrifice of the other nominees. We can make a difference in the lives of others - and that is the true reward."
###
About the Indiana CPA Society
Nearly 8,100 CPAs in public practice, business and industry, government and education are members of the Indiana CPA Society. INCPAS is the most trusted business resource and advocate in Indiana. Its members are required to abide by the CPA profession's code of conduct. INCPAS members also receive access to quality educational programs and peer networking for knowledge sharing. Society members are trusted advisors to Indiana's business community. INCPAS celebrated its 100th anniversary in 2015. For more information, visit incpas.org.
Contact: Dave Shatkowski, Vice President - Communications
Phone: (317) 726-5022
E-mail: dshatkowski(at)incpas(dot)org