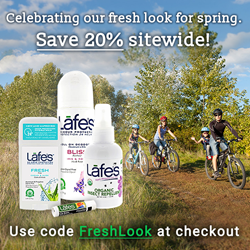 Lafe's products are natural and safe for the entire family, including expectant mothers.
Austin, TX (PRWEB) April 19, 2016
Lafe's Natural BodyCare is proud to announce the launch of their brand new website, catering to the natural and organic community looking for personal care products that are made without any toxic chemicals.
In celebration of the website's new look, Lafe's is offering 20% off sitewide, plus a free gift with any purchase until May 1, 2016 and while supplies last.
Lafe's Natural Bodycare, founded in 1992, was born from founder Lafe Larson's drive and dedication to provide products made from only the purest, highest-quality ingredients. With the firm belief that "what goes on your body, goes in your body," Lafe saw the opportunity to fill a void in the personal care industry. With a $15,000 loan from his family, Lafe began formulating and selling a variety of natural deodorants.
Lafe's Natural BodyCare has since expanded their lineup to include a wide variety of products, including baby care, natural insect repellents, hair care and more. Staying true to Lafe's commitment to using only the highest-quality ingredients, all Lafe's products are natural and safe for the entire family, including expectant mothers.
"I couldn't find any personal care products that I felt safe letting my kids use," says Lafe Larson. "I was not okay with that. I started this company in an effort to help change the body care industry and provide people with personal care options that didn't contain harmful chemicals. To create a product that I could feel comfortable letting my kids use."
In addition to providing all natural solutions for personal care products, Lafe's Natural BodyCare also gives back to their community with the Lafe's 1% Project. The company generously donates 1% percent of all profits to various charities, including the Breast Cancer Fund, The Environmental Defense Fund, the Sierra Club, The Cancer Project and the United Cancer Research Society. With each and every purchase, you can make a difference through Lafe's 1% project!
To learn more about Lafe's Natural BodyCare and the products they offer, visit Lafes.com.