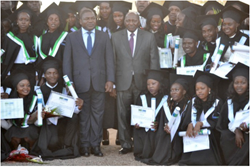 Elkridge, MD (PRWEB) April 18, 2016
Planet Aid today congratulated the 2016 graduates of One Word University in Mozambique. The university is operated by ADPP Mozambique with financial support from Planet Aid.
The commencement ceremony was held at OWU's Changalane campus, and the President of Mozambique, Filipe Jacinto Nyusi, delivered the commencement address.
"The courses from which students graduated today are very important and fundamental in society at a time when Mozambique is seeking to free itself from hunger, and needs more clean drinking water, and more electricity to develop the rural areas," said President Nyusi.
The 77 graduates were equally divided between OWU's two majors, Pedagogy and Community Development. The Pedagogy track focuses on teaching students how to be effective educators, and graduates from this program go on to teach in primary schools or to train other teachers. The Community Development program provides students with the knowledge and means to go into rural communities and help them combat poverty.
The Community Development program was recently highlighted for helping poor communities reduce their consumption of wood and simultaneously increase the amount and quality of light in their homes. Through the introduction of firewood-saving stoves and solar energy panels, the OWU helped the community save money while also preserving the environment.
"Planet Aid's mission statement is 'For the Environment. For People,' and OWU students are aligned with this mission in every way," said Planet Aid President Ester Neltrup. "I am certain these graduates will go on to affect great change in their communities. Planet Aid is proud to support this program and these students."
About Planet Aid
Planet Aid is a U.S. 501 (c)(3) nonprofit and is registered with USAID as a private voluntary organization. It collects and recycles used clothing and shoes as part of its environmental mission. The net proceeds from its 22-state recycling operation help to support projects aimed at eliminating poverty. Since its inception in 1997, Planet Aid has provided more than $100 million to support projects on three continents. It has managed Food for Progress programs in both Mozambique and Malawi totaling several million dollars. Planet Aid supports programs in education, teacher training, nutrition and agricultural and economic development.