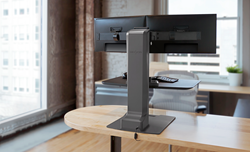 Easton, PA (PRWEB) April 20, 2016
Winston-E is a breakthrough sit-stand product engineered to empower higher thinking. According to CEO Joe Tosolt, "While the wellness benefits of incorporating sit/stand practices into one's workday have been clearly established, we also believe that a more active work style provides benefits reflected in mental alertness, creativity and productivity. Winston-E was inspired by the long list of great thinkers who worked at a standing desk… Churchill, Hemingway and Jefferson, to name just a few."
Winston-E includes a freestanding base that enables instant sit-stand conversion of any desk or table. The product offers powered height adjustment, with a programmable memory to save height settings. Unique monitor arms allow for focal depth adjustment/tilt and independent movement to position screens at the ideal viewing distance and angle. The incremental adjustment also allows workers to easily turn their monitors to share what's on their screen with others.
Additional features include a stable, oversized work surface, roomy console and the option to attach up to three monitors.
Visit LCDarms.com/Winston-E to learn more about Winston-E.
To place a pre-order, call 800-524-2744.
###
Innovative Office Products is an award-winning market leader in monitor and tablet mounting solutions and sit-stand workstations, designed and manufactured to provide the best in flexibility, space savings and ergonomic benefit. Innovative leads the way in exceptional quality by combining product performance with award-winning design. All products are tested to meet or exceed BIFMA standards and are backed by a manufacturer's warranty. Innovative strives to reduce environmental impact through standard design and manufacturing procedures. Innovative assembles products at its manufacturing facility in Easton, PA.