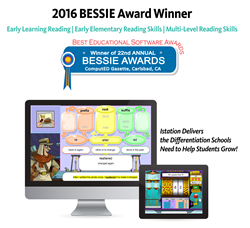 Istation is honored to be recognized as one of the best education software options available
Dallas, Texas (PRWEB) April 25, 2016
Today, the ComputED Gazette awarded Istation, a comprehensive e-learning program, three Best Educational Software Awards (BESSIE). The program was chosen as the winner for Early Learning Reading, Early Elementary Reading Skills, and Multi-Level Reading Skills.
"Istation is honored to be recognized as one of the best education software options available," said Richard Collins, Istation Chairman and CEO. "We are committed to educational excellence and work diligently to improve the Istation product year after year. We are proud of Istation Reading and its ability to help all students from pre-K to 12th grade achieve academic growth, and we thank the ComputED Gazette for each of these three awards."
Now in their 22nd year, the ComputED Gazette's Best Educational Software Awards target innovative and content-rich programs and websites that provide parents and teachers with the technology to foster educational excellence. Submissions are judged on academic content, technical merit, subject approach and system management.
A ComputED Gazette review of Istation states, "Complying with state standards as well as Common Core, Istation uses a computer-adaptive test and ISIP (Istation's Indicators of Progress) to deliver content tailored to each individual student's skill level in the four critical domains of reading: Word Analysis, Fluency, Vocabulary, and Comprehension. Building on those skills, Istation provides three tiers of instruction and does so with engaging, compelling content and lots of guided practice — in a format even struggling readers and ELL students will find appealing."
The review continues, "Teachers will like the available resources which include directed lessons, bibliographies for each lesson, online interactive books and, best of all, student scores and placements which are completed immediately, freeing up more time for actual teaching. If improving reading skills is in your wheelhouse, you'll want to take a look at Istation."
Istation also received two BESSIE awards in 2015, one for Early Elementary Reading and another for Upper Elementary Advanced Reading.
About Istation
Istation is an award-winning comprehensive e-learning program used by more than four million students across the world. Known for its accurate assessments, engaging curriculum and trusted teacher tools, Istation helps students in prekindergarten through 12th grade achieve academic growth. Istation's computer-adaptive assessments (known as ISIP™) immediately place students on personalized instructional paths unique to their needs. An animated, game-like interface effectively engages students so that they don't even know they're being evaluated. Along with its highly interactive digital curriculum, Istation provides teachers with access to thousands of lessons perfect for instructing small groups or an entire class. Comprehensive progress reports are also immediately available for educators, administrators and parents. Istation offers its ISIP assessment in Early Reading, Advanced Reading, Reading en Español and Math. Istation instruction is available in Reading, Reading en Español and Math. Students can also use their Istation subscriptions at home. Since its founding in 1998, Dallas-based Istation has seen tremendous growth. The company's animated program is now helping students in 44 states and four countries learn and grow.
About The ComputED Gazette
The ComputED Gazette is a valuable educational resource, having served the online community for over 21 years. Our directors are educators who have provided the finest computer education to children and adults in the North San Diego area. The Gazette is proud sponsor of two national awards: The Best Educational Software Awards (BESSIES) in the spring and the Education Software Review Awards (EDDIES) in the summer. Additions to our website are the expanded Reviews section and the Awards Showcase, where selected award-winning entries are reviewed by our staff writers.