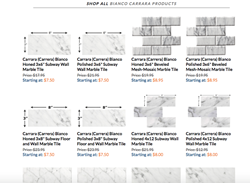 When buying online do so from a Google Trusted Store. Google pretty much is the Internet. They know who the Good Guys are. They have done the research for you.
Alpharetta, GA (PRWEB) April 20, 2016
The world of buying online is changing. It started with books, electronics next groceries now Natural Stone and Tile. Buying online offers value and if that is a direction you choose then hopefully these tips will help consumers make a more informed decision.
The focus of this article is Carrara Marble and some simple check boxes to keep you safe when buying online. Carrara marble is a tricky stone. It changes from lot to lot. It is not a static product like a book. Before buying online consumers may want to check out a few things before diving in. Particularly if buying a bathroom and need the mosaic to be a close match to the tile to the trim and so on. Not a simple process of a natural stone.
#1. Many will find the product online through a search engine. Google is the top search engine. Companies will show up in Google shopping or advertising text to draw you to their website. These companies value Google as a resource. They must do, as they are using them as a vehicle to reach you. So they should be a Google Trusted Store... right? They advertise with Google, put their products on Google, so it would seem logical to be a Google Trusted Store. If possible buy from Google Trusted Stores. Google has already done the homework and investigation and offers guarantees for free. They know who the good guys are. They pretty much are the internet.
#2. Consider buying from a company that has access to the Carrara product whether a Carrara Hexagon or matching 6x12 Tile. Direct access. Not sitting in a cube somewhere or in another country when you call. A US based company that can take pictures before your order ships. Buyers need to know the person with whom they are speaking to on the phone is the person looking at the Carrara. That they can touch it, can take a snap with a iPhone and send it on. Otherwise how do you know what "lot" or particular look you are getting. How can you do a quick background check by yourself? Look at their Instagram account. For example. Pictures of marble in pallets and boxes open in a warehouse. That is a good sign.
#3. Room scenes. If there are no room scenes then why not? It is most likely that no one was thrilled enough to send any in. How can you check? Go to their blog. Check to see if they have a section for "Room Scenes" if they are proud of them it will be upfront. Bloggers are a great resource. Some of the room scenes should come from independent bloggers. There are thousands of DIY blogs today. If the online store you are buying from has not been in a single blog. Then that is quite an accomplishment. They must have gone out of their way to avoid them altogether. Look for room scenes by bloggers who are good photographers and they can also provide DIY tips as well.
Simple tips to buying Carrara online. If they are not a Google Trusted Store why? If they cannot send pictures then they have no access to the material and that means potentially consumers have no idea what lot or look or veining will be shipped! If they are not in any DIY blogs, how?