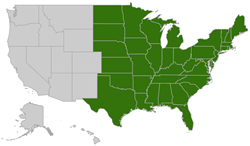 Broader coverage allows our partners to provide more consistent, best-in-class offerings while eliminating unnecessary training and integration costs
Sanford, NC (PRWEB) April 19, 2016
Adapt-N has expanded its market-leading nitrogen management coverage to include 9 new states for the 2016 Crop Season. The expansion, announced on April 15, 2016, grows what is already the largest geographic footprint in the U.S. for precision nitrogen management solutions for planning, modeling and in-season recommendations.
"Adapt-N now has a commercial presence and fields in 38 states, and we'll continue to add additional geographies to match the needs of our client base," said Steve Sibulkin, CEO of Agronomic Technology Corp, the company that provides Adapt-N. Sibulkin noted that since Adapt-N is used by a host of farm management technology providers, agriculture retailers and national agribusinesses, it's imperative that the company provides local availability of its tools. The newly added states include Alabama, Arkansas, Florida, Georgia, Louisiana, Mississippi, Oklahoma, Tennessee and Texas.
"Broader coverage allows our partners to provide more consistent, best-in-class offerings while eliminating unnecessary training and integration costs that are a result of fragmented solutions," adds Sibulkin.
"SIGNIFICANT BUT IMPORTANT INVESTMENT"
"Proper expansion and calibration of precision tools like Adapt-N represents a significant but important investment by our company," says Greg Levow, COO of Agronomic Technology Corp. "Expansion involves securing and validating hyper-local weather, expanding our localized proprietary soil databases, robust climate and soil modeling calibrations, and extensive testing with users."
ATC leveraged a dozen years of prior research, calibration, testing and tool provision as a head start into these markets. Its underlying nitrogen model has been well validated, including in the recently published NutrientStar platform. "Clients in new states will benefit from years of in-field calibration and modeling, manifested in an easy, on-demand precision nitrogen management solution," says Levow.
"So far, the interest and uptake has been amazing," adds Sibulkin, "and we're getting inquiries from new partners that had been previously shut out of these types of tools. We're pleased to have expanded our service territory in time for those looking to leverage Adapt-N for 2016 in-season nitrogen applications and field profitability insights."
ABOUT AGRONOMIC TECHNOLOGY CORP
Agronomic Technology Corp provides a recommendation platform to help tackle key challenges in agriculture. The company leverages the power of cloud technology, proven science and data to deliver large-scale, field-specific solutions that break the tradeoff between financial and environmental performance. The company operates Adapt-N, the leading independent nitrogen management solution and was launched in 2008.
To learn more about Adapt-N, contact grow(at)adapt-n(dot)com or call 866-208-3276.