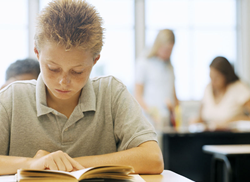 "This study demonstrates that as long as structured silent reading instruction is neglected in this country, the literacy problem is likely to continue." Mark Taylor, CEO of Reading Plus
Winooski, VT (PRWEB) April 21, 2016
The Spring (April/May/June 2016) issue of the highly regarded "Reading Research Quarterly" (RRQ), published by the International Literacy Association, features a comprehensive study that compares data from a 1960 study to data garnered in a 2011 study measuring the comprehension-based silent reading efficiency of US students. Among the key findings was a 19% decline in comprehension-based silent reading rates in today's 12th graders as compared to their peers in 1960.
According to the study, "Overall reading rates were about 24 wpm lower in 2011 than in 1960...The results…suggest that present-day students are less efficient readers than their 1960 counterparts… By grade 12, students in 2011 were reading at an average rate of 192 wpm, 45 wpm more slowly than grade 11 students did in 1960. This represents a 19% decline in comprehension-based silent reading rate."
Industry leaders note that this provides another data point demonstrating that high school graduates often do not acquire the reading proficiency needed to efficiently read and comprehend more complex texts such as those they are likely to encounter in college and career settings.
"What we know – and the data in this study underscore – is that for many students, the progression to efficient silent reading does not develop naturally. Many students need structured instruction focused on silent reading proficiency," explains Mark Taylor, CEO of Reading Plus, a web-based silent reading program for schools. "Effective reading instruction must integrate fluency, vocabulary, and comprehension practice tailored to meet each student's unique needs. This study demonstrates that as long as structured silent reading instruction is neglected in this country, the literacy problem is likely to continue."
The article titled "The Decline of Comprehension-Based Silent Reading Efficiency in the United States: A Comparison of Current Data with Performance in 1960" by six authorities in literacy education, reviews and draws conclusions by comparing data from a 2011 student sample to that from a study conducted in 1960. The report's authors are Alexandra N. Spichtig (corresponding author), chief research officer at Reading Plus, Winooski, Vermont, USA, Elfrieda H. Hiebert the president and CEO of TextProject and a research associate at the University of California, Santa Cruz, USA, Christian Vorstius, senior lecturer in the Division of General and Biological Psychology of the School of Human and Social Sciences at Bergische Universität Wuppertal, NRW, Germany, Jeffrey P. Pascoe, research scientist at Reading Plus, Winooski, Vermont, USA, P. David Pearson, a professor in the Language and Literacy and Human Development programs in the Graduate School of Education at the University of California, Berkeley, USA and Ralph Radach, professor of general and biological psychology in the School of Human and Social Sciences at Bergische Universität Wuppertal, NRW, Germany.
Reading Plus is a web-based reading intervention program appropriate for students in grade 3 and higher. Reading Plus changes the way students read silently so that they can make the leap from "learning to read" to "reading to learn." Our individualized reading instruction bridges the gap between foundational reading skills and reading proficiency, dramatically improving comprehension, vocabulary, and reading rate.
Media Inquiries:
Elizabeth Davis
edavis(at)boardmandavis(dot)com
802-598-7155