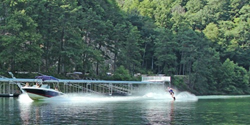 We have a rigorous vetting process for the communities we choose to feature on our website or recommend to our real estate clients, and Rockledge in Western North Carolina meets those standards.
Bluffton, SC (PRWEB) April 19, 2016
Southeast Discovery, a real estate consulting firm specializing in guiding Baby Boomers with their real estate needs in the niche markets of retirement, relocation and second homes in the Southeast region, has added the North Carolina master-planned community of Rockledge to its list of quality communities to consider for southeast retirement, relocation or second home purchase.
"We have a rigorous vetting process for the communities we choose to feature on our website or recommend to our real estate clients," said Marian Schaffer, Principal and Founder of Southeast Discovery. "We don't recommend communities or add them to our website unless we have visited the community ourselves, checked it out extensively, and received honest feedback from current residents. Rockledge easily meets all the requirements we want to see in a quality community featured on our site, and we feel comfortable recommending the community to clients looking for a home in the mountains of Western North Carolina."
Rockledge is located at the juncture of Fontana Lake and the Nantahala River in The Great Smoky Mountains in Bryson City, North Carolina. The 200+ mountain acres in Western North Carolina share a 236-mile shoreline with The Great Smoky Mountain National Park and Nantahala National Forest ensuring the protection of the mountain, lake and river wilderness. Residents of the master-planned community of Rockledge also have full privileges and adjacent access to the Nantahala Outdoor Center, renowned for its river and outdoor adventures.
The lakefront community of Rockledge, with private marina and boat slips on the 10,600 acre recreational haven of Fontana Lake, is currently offering 55 to 60 home sites from one to seven acres in size. A private lodge, fitness center and family recreational activities, as well as community trails that connect to the Appalachian Trail are some of the additional amenities.
Schaffer says communities featured on the Southeast Discovery website must demonstrate merit in the following categories:
Good location: The community or real estate must be close to a natural attribute such as a beach, river, lake or mountain area; offer desirable views for which the area is known; or must offer proximity to a desirable town or city.
Amenities: "We want to see a community that features completed amenities rather than 'proposed' amenities," said Schaffer. "Buyers today do not want to take the financial risk of promises and projections but rather have the assurance of a stable community with lifestyle amenities of their choice already in place." Completed amenities can include golf courses, clubhouses, fitness and wellness centers, indoor/outdoor pools, walking trails, dog parks, community gardens, onsite restaurants, and gated entrances.
Sound developer: "We vet the developer behind the project to find out what their motivations are," said Schaffer. "Is it simply to make money – or do they have a passion for what they're creating? We like to see a developer who cares about the end product they're producing for their targeted buyer and we also want to see that the developer is in a position financially to deliver on their plan."
Quality housing choices: Schaffer shared that her company considers communities for inclusion on her website in all price ranges. She added, "We like developments that offer quality-built housing. Whether it's a community that features $300k homes or $850k homes, we're looking for homes that have sound construction for our clients. The homes may be small, and their features can be basic, but we want to see sound construction."
Resident feedback: "In addition, we like to talk with current residents to hear how they like the community – are they happy they purchased in the development? We prefer to look at communities that have a base of residents living in the community, rather than it being a start-up development."
"Adding Rockledge to our site was an easy decision for our firm," said Schaffer. "The 200 acres of Rockledge are bounded by the Great Smokey National Park and Nantahala National Forest and the home sites with mountain, water and /or forested views are crafted into the terrain with minimal of disturbance to the surroundings. The limited opportunity for commercial encroachment and the proximity to outdoor recreation opportunities are two of the main reasons we wanted to feature this Western North Carolina community on the Southeast Discovery website."
About Southeast Discovery
Since 2004, Southeast Discovery has been a trusted resource for candid information and insight on communities, developments, and general real estate in the Southeast. Through its highly-ranked web portal, newsletter and blog and its one-on-one work with clients, Southeast Discovery helps buyers actively looking for a retirement or second home in the Southeast navigate the process of identifying the right area and community for their needs. To learn more, visit http://www.southeastdiscovery.com/.