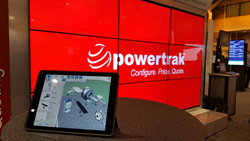 Our solution suite simplifies complex selling and servicing, drives down sales costs through automation, makes sales professionals more efficient and effective, and strengthens loyalty with channel partners and consumers. - Mike Belongie, COO at Axonom
Atlanta, GA (PRWEB) April 19, 2016
Axonom, a global provider of cloud-based configure, price, quote (CPQ) software, today announces its participation as a select sponsor at the Exact Macola Evolve conference in Atlanta, Georgia, from April 19-22, 2016. The company is set to feature educational seminars and product demonstrations on the latest Powertrak CPQ enhancements for Exact Macola customers.
Business leaders in sales, marketing, and IT are urged to visit booth 8 in the Imperial Ballroom for leading-edge strategies and product demonstrations on Axonom's CPQ suite that includes guided selling, visual product configurator, pricing and quoting management, and partner and customer portals.
"We're offering Exact Macola users sales enablement and revenue acceleration solutions that enhance, simplify, and ensure accuracy and efficiency in the sales pricing, quoting, ordering, and product configuration processes," said Mike Belongie, COO at Axonom. "Our solution suite simplifies complex selling and servicing, drives down sales costs through automation, makes sales professionals more efficient and effective, and strengthens loyalty with channel partners and consumers."
Powertrak CPQ is a cloud-based solution that streamlines the quote-to-cash process and accelerates the conversion of sales opportunities into revenue with automation tools that simplify complex configurations, speed quote generation time, and ensure ordering accuracy.
Axonom is also unveiling Powertrak 3D Product Configurator, its fastest growing platform for manufacturers to visually communicate the competitive differences of their make-to-order products in a realistic and engaging manner. This 'show and sell' platform encourages partners, resellers, and customers with little-to-no knowledge of the product(s) to become less apprehensive and more engaged in the designing and ordering process.
Exact Macola customers orchestrating complex selling strategies across multiple channels are asked to visit Axonom in booth 8 for automation solutions to improve the sales quoting experience, simplify complex configurations, ensure ordering accuracy, and increase user confidence.
About Axonom
Axonom is a global provider of cloud-based configure, price, quote (CPQ) and visual product configurator solutions for high-tech, manufacturing, and service organizations. The company's Powertrak CPQ software simplifies complex configurations, speeds quote generation time, and ensures accurate sales quotes and orders.
Axonom's advanced CPQ offering, Powertrak 2D/3D Visual Product Configurator, empowers users to visually and interactively build, design, quote and order highly configurable, make-to-order products. Powertrak encourages social engagement, inspires self-expression, strengthens brand loyalty, and boosts sales by capturing every customer interaction and transaction, from lead-to-close, wherever it takes place. For more information, please visit http://www.axonom.com.