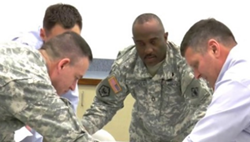 "Anyone that has the time (if not make the time) should attend this seminar…Drive, fly or take a bus…it may be the single most important day you spend as you plan the next step in your career after the military." MAJ. (ret.) Joe K.
Fort Carson, CO (PRWEB) April 18, 2016
On April 19, Afterburner will deliver the fourth USAA-sponsored Military Transition Seminars (MTS) of the 2016 calendar year. This is the second time the career planning seminar will be delivered at Fort Carson, less than a year after last year's May program.
Open to all rank and branches, MTS is for exiting service members and their spouses, as well as well as post-transition veterans. The day-long course is developed by veteran-owned-and-operated training firm, Afterburner Inc. and delivered by elite teams from both Afterburner and USAA. The partnership demonstrates both organizations' commitment to empowering veterans with the tools and resources needed to execute seamless, successful transition.
"Transitioning from the military to civilian life can put a strain on military members and their families," said Renee Sokolowski, assistant vice president of Military Transition / Innovation at USAA. "Bringing best-in-class transition seminars to the military community highlights our commitment to making life easier for those who sacrifice so much to protect our freedom and preserve our way of life."
The full-day seminar is part of a larger initiative to encourage military families to approach the transition to civilian life strategically, doing so well in advance of separation or retirement dates. The Afterburner and USAA teams train participants to identify key areas of consideration to guide the planning process. This process is leveraged by MTS attendees to develop individual strategic plans, complete with a personal value proposition, custom career objectives based on experience and industry insights on where military core competencies are in high demand.
More than 2300 transitioning service members, veterans and spouses have participated in the MTS since its inception in 2013. The program supports and complements the current mandated transition training programs in job search, networking, interview preparation and more.
"Anyone that has the time (if not make the time) should attend this seminar," advised recent participant MAJ. (ret.) Joe K. "Drive, fly or take a bus…it may be the single most important day you spend as you plan the next step in your career after the military."
The seminar will be held from 0700-1700 Tuesday, April 19, 2016 at the Elkhorn Catering & Conference Center in Fort Carson. Learn more about MTS, preview upcoming dates and locations and register online at http://www.afterburner.com/programs/veteran-transition. Learn more about USAA's military transition tools and advice at usaa.com/leavingthemilitary.
For additional information, contact Roger Nixon, Director of Military Programs, via email at rnixon(at)afterburner(dot)com or by phone at (855) 599-0241.
About USAA
The USAA family of companies provides insurance, banking, investments, retirement products and advice to 11.4 million current and former members of the U.S. military and their families. Known for its legendary commitment to its members, USAA is consistently recognized for outstanding service, employee well-being and financial strength. USAA membership is open to all who are serving our nation in the U.S. military or have received a discharge type of Honorable – and their eligible family members. Founded in 1922, USAA is headquartered in San Antonio. For more information about USAA, follow us on Facebook or Twitter (@USAA), or visit usaa.com.
About Afterburner, Inc.
Afterburner Inc. was founded in 1996 by U.S. Air Force fighter pilot James "Murph" Murphy and trains organizations around the world in the simple, scalable improvement processes of Flawless Execution. Afterburner brings elite military precision to top corporations around the world with a client list that includes some of the world's most innovative organizations. Afterburner has been nominated to the Inc. 500/5000 four times and featured in leading publications like The Wall Street Journal, Businessweek, Financial Times, Newsweek, Slate, Sports Illustrated and Atlanta Business Chronicle. Afterburner also has appeared on CNN, ABC, CNBC, Fox News, HLN and Bloomberg News, among others. To learn more about Afterburner's innovative approach to building elite teams and Flawless Execution, visit http://www.Afterburner.com or call (888) 982-6764.