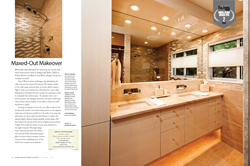 Roslyn Heights, NY, (PRWEB) April 19, 2016
Classic Kitchen and Bath / Boico Design Group was contracted to design and renovate two cramped and space limited bathrooms for an Amagansett, New York family. Having worked with Classic Kitchen and Bath in the past, the homeowners chose Jeff Boico, CKD to tackle the project.
Jeff's spa like design which included a steam shower wet room with floating vanity, underside LED lighting and crocodile-textured tiles won him 2nd place from Signature Kitchens and Baths magazine in their annual design contest. Signature Kitchens & Baths magazine is a national "consumer-enthusiast design publication dedicated to providing affluent homeowners and savvy professionals with inspirational ideas for their kitchen and bath spaces."
"I am very excited to have received this kind of recognition. It was a real pleasure working with these loyal customers and meeting their needs while overcoming some challenges" – Jeff Boico, CKD
The biggest challenge in this particular design was privatizing the toilet area which was very limited in space. Jeff's solution was to use a sliding barn door as well as a wall hung toilet with a tank that sat in the wall thus opening up much needed space. More bathroom design from Jeff and the rest of the Boico Design Group can be found at http://classickitchenandbathcenter.com/bath-and-spa/
"Having our company recognized year after year by such a prestigious magazine really keeps Classic Kitchen and Bath / Boico Design Group at the forefront of design. Being nationally recognized as a leading design firm should give our customers confidence that we can help homeowners achieve their dreams."- Andrew Boico, General Manager
A family owned and operated business for over 40 years, The Boico Design Group's Classic Kitchen & Bath has been helping homeowners achieve their dreams. A winning combination of expert knowledge, creativity and passion has made Classic Kitchen & Bath one of the most sought after design firms in the country. The key to Classic's success is the strength of their team approach to doing business. Classic Kitchen & Bath is one of the most sought after kitchen design firms in the Long Island & New York City area.
If you would like more information about this topic, please contact Andrew Boico at 516.621.7700 or email at info(at)classickitchenandbathcenter(dot)com.