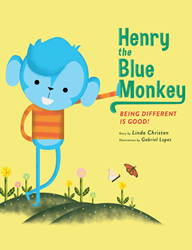 "AWESOME BOOK!! What a great message. We have read it a few times with the boys and talked about it. One has autism and it gives us a great way to talk to him and his brother about how special they are for the differences they each have." Jen, Mill Creek
Seattle, Washington (PRWEB) April 28, 2016
During a children's book launch party held on Sunday, April 24, 2016 in Mill Creek, Washington, local author Linda Christen received a warm welcome as the guest of honor, for her new children's book, Henry the Blue Monkey: Being Different is Good.
Children from local schools and neighborhoods gathered with their parents, friends, and relatives to celebrate the new children's book. Fun-filled activities for the children included: Pin the Tail on the Monkey, Banana Toss, and Make Your Own Superhero Cape. Adults sipped champagne while the author read aloud to their children. Autographed copies were a cherished take-a-way for many guests.
For more information about Henry the Blue Monkey: Being Different is Good, please visit: http://www.HenryTheBlueMonkey.com
While the children played, Linda shared with the adults her personal story of how the book came to life. Out of silence, reflection, and tragedy, a new voice was born, speaking to children everywhere – in the form of Henry the Blue Monkey.
"I want to tell my story and explain why the message in this children's book is so important. We continue to live in a world surrounded by fear, separation, the harsh reality of dealing with bullies, and a lack of love and understanding for others. So many anti-bullying campaigns exist already, but I wanted to be more proactive by inventing a character little children could understand -- to give them a positive role model in Henry the Blue Monkey," said Christen.
About Henry the Blue Monkey
The message of the book is simple, relevant with families today, and fun to read aloud. The description on the back cover colorfully represents the book's message.
What does 2016 look like for Henry the Blue Monkey?
Henry the Blue Monkey is on track to become a children's story book classic as well as a useful communication tool for parents of children with autism, difficulties, disabilities, and differences of all sorts. Truly passionate about the encouraging message delivered inside each of Henry's adventures, Christen hopes to reach every child who needs a fluffy blue superhero friend to remind them exactly how special they are. Dreaming big, she sees Henry the Blue Monkey in cartoons, plush toys, and definitely in more book adventures to come.
Actively working on book two in the Henry the Blue Monkey series, Christen promises to deliver the same dose of inspiration again, as Henry takes on art camp: discovering new talents, adventures, and making new friends – one in particular, named Lola.
Book Reference:
Christen, Linda. Henry the Blue Monkey. BookBaby Publishing, 2016. Henry discovers in one way or another we're all different and that's what makes us special. Join this endearing blue monkey as he overcomes insecurity with love, acceptance, and a few superpowers.
Release Date: May 6, 2016
Hard cover $23.95
ISBN: 978-1-48356-653-5
Printed Book Distribution:
Amazon
Barnes & Noble
Ingram
Baker & Taylor