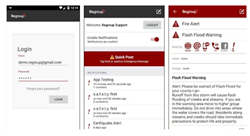 This new application empowers both admins and recipients to send and receive multimodal alerts via text/SMS, text-to-speech, voice, email and push notifications
San Francisco, CA (PRWEB) April 19, 2016
Regroup Mass Notification, the award-winning provider of emergency and day-to-day notification solutions, today announced the launch of their AlertManager Mobile App for IOS and Android to empower mobile users to quickly launch critical alerts directly from their smartphones.
AlertManager allows users to easily initiate a notification on the go from any location without having to log into the system. Advanced features like pre-written Quick Posts facilitate one-click alerting from an user-friendly interface to guarantee important alerts are sent out on time.
This new application empowers both admins and recipients to send and receive multimodal alerts via text/SMS, text-to-speech, voice, email and push notifications.
Key features and benefits of AlertManager include:
-Real-time, two-way communication between admins and recipients
-Push notifications that ensure critical alerts are always delivered
-Two-step Quick Post feature facilitates one-click alerting
-Customizable Quick Post templates that can include event-specific text, multimedia, attachments, images and recorded messages
-Populated recipient lists empower admins to easily reach specific people or groups
-HTML, rich-text editor
-NWS/NOAA weather alerts as they are issued
"We at Regroup are very excited about this new application that will allow our clients to leverage the power of mobile technologies to improve communications and reach recipients wherever they are at any moment. These developments comes after months of hard work and intense testing that we believe will simplify communications for many organizations," said Joe DiPasquale, CEO of Regroup.
The AlertManager application is now available for free in App Store (IOS) and Google Play to users of Regroup's award-winning platform.
About Regroup:
Regroup, the leading provider of Emergency and Mass Notification solutions and DRI 2015 Notification System of the Year, offers easy one-click messaging to mobile phones (text/voice), landlines, email, social media, websites and more. Regroup stands apart from other mass communication systems with its ease of use, automated messaging capabilities, seamless integration with client databases and other third-party systems, unparalleled 24/7 customer support and unlimited text/voice/email messaging.
Regroup's powerful, yet easy-to-use mass communications platform is leveraged by universities, state/local governments, corporations and nonprofits across North America to streamline emergency and day-to-day communications.