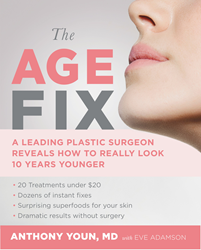 "Sugar spikes in our blood can result in chronic inflammation, which can be damaging to our skin."
Los Angeles, Calif. (PRWEB) April 20, 2016
In his new book, "The Age Fix: A Leading Plastic Surgeon Reveals How To Really Look Ten Years Younger," renowned board-certified plastic surgeon Dr. Anthony Youn reveals that the main dietary cause of premature aging is sugar: "Sugar equals wrinkles. No doubt about it. Sugar ages our skin more than any other dietary factor."
So how does sugar contribute so much to the aging process? "Sugar spikes in our blood can result in chronic inflammation, which can be damaging to our skin. Sugar also causes glycation, a process where the sugar molecules bind to and deform the collagen and elastin in our skin," Dr. Youn states. And it's not just sugary sweets and desserts that contribute to aging. "Refined sugars, like those found in white bread, white rice, and pasta can cause sugar spikes similar to what we see with sweets. So whenever you can, switch from white to whole grain. The extra fiber content in these foods can help reduce the damage that sugar can cause."
Dr. Youn also gives a key anti-aging tip for when you do consume sugar. "If you do eat a sugary food, have protein, fiber, or fat with it, anytime you eat it. Fiber, protein, and fat always slow down the digestion of sugar and limit the severity of sugar spikes. So add peanut butter to your bagel and olive oil to your pasta. It's good for your skin!"
Dr. Youn's new book contains the Age Fix Diet, a complete meal plan for turning back the clock. It also gives a simple anti-aging skin care plan that anyone can follow and reveals solutions for virtually every single beauty and aging problem there is.
For more information about The Age Fix please visit http://www.dryoun.com
About Dr. Anthony Youn:
Anthony Youn, M.D. F.A.C.S is a nationally recognized, board-certified plastic surgeon who is considered one of the country's best-known experts in looking younger with or without surgery. Recognized as a leader in his field, Dr. Youn is valued for his honest approach and ability to speak to all areas of health and well being.
More than being a regular expert on The Rachael Ray Show, The Dr. Oz Show, and The Doctors, Dr. Youn's expertise has also been featured on Good Morning America, Katie, Today, CBS This Morning, Access Hollywood, Fox News, CNN, HLN,, The New York Times, USA Today, and People Magazine. Named a "Top Plastic Surgeon" by U.S. News and World Report and Harper's Bazaar, Dr. Youn is a member of the American Society of Plastic Surgeons (ASPS), American Society for Aesthetic Plastic Surgery (ASAPS), and a fellow of the American College of Surgeons.