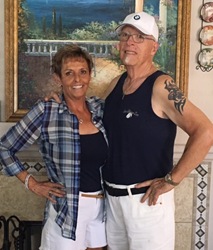 My oncologist calls me a mutant.
Raleigh, NC (PRWEB) April 20, 2016
Californian Andy Ashcraft says cannabis oil, along with other natural oils and a healthy lifestyle, has kept his pleural mesothelioma in check for more than two years after surgery. Surviving Mesothelioma has just posted his remarkable survival story as part of a 3-part series on the Ashcrafts and their experience with medical marijuana. Click here to read the article.
In an interview with Surviving Mesothelioma, the Ashcrafts explain how a protocol of cannabis oil, essential oils, acupuncture, massage, exercise and positivity have helped Andy survive and thrive more than six years after his 2010 mesothelioma diagnosis.
"Both Andy and his wife Ruth are remarkable people and we know that many of our readers are going to find their story and the information on cannabis oil both inspiring and enlightening," says Alex Strauss, Surviving Mesothelioma's Managing Editor.
The first article contains a chronology of Andy's illness and the conventional and experimental treatments he received before starting on cannabis oil in 2013. It also includes an explanation of how the active ingredients in this highly-concentrated oil from the marijuana plant is thought to help combat cancer.
"My oncologist calls me a mutant," Ashcraft told Surviving Mesothelioma. "Every time I go into my doctor and we do a scan, there is no change."
To read Andy Ashcraft's hopeful survival story and learn more about what he did, including his use of cannabis oil, see Six-Year Mesothelioma Survivor Credits Cannabis Oil and Healthy Lifestyle, now available on the Surviving Mesothelioma website.
Hill, Dennis, "How Cannabis Oil Works to Kill Cancer Cells," Accessed April 18, 2016, CureYourOwnCancer.org, http://www.cureyourowncancer.org/how-cannabis-oil-works.html
Phone interview with Andy and Ruth Ashcraft, April 14, 2016.
For nearly ten years, Surviving Mesothelioma has brought readers the most important and ground-breaking news on the causes, diagnosis and treatment of mesothelioma. The information in this article is not a substitute for professional medical advice, examination, diagnosis or treatment. You should always seek the advice of your physician or other qualified health professional before starting any new treatment or making any changes to an existing treatment. You should not delay in seeking or disregard medical advice based on information in this article. Cannabis oil is NOT FDA approved for the treatment of any cancer.