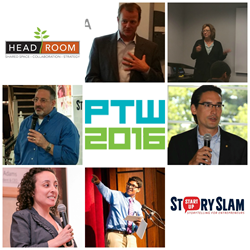 "'What the tech? Disruption' is our theme for the evening. We know there are great stories out there. We can't wait to hear them." says John Tooher of HeadRoom.
Media, PA (PRWEB) April 19, 2016
The story may not be a fairytale that begins with 'Once Upon A Time', however HeadRoom has no doubt that there are a million stories in the region about starting and running a business. That is why this year HeadRoom is sponsoring Startup Story Slam as part of Philly Tech Week. "The intention of Philly Tech Week is to celebrate the intersection of business, technology and art", says John Tooher Co-Founder of HeadRoom. "We thought a unique way to honor this intention is to share our experiences in business and with technology, through the art of storytelling."
Startup Story Slam is story telling for entrepreneurs. Startup and Small Business owners are invited to share their experience in an informal five minute talk addressing the evening's theme – "What the tech? Disruption". "Disruptive technologies and disruptive businesses are frequently analyzed in the news. We believe there are interesting people and stories in our community that can speak to the theme of being disrupted in a job, in a business or to actually causing a disruption. We can't wait to hear the stories." continues John.
Interestingly, the storytelling platform presents a fun juxtaposition as stories are shared about business and technology in a completely non-tech way. Storytellers will get on stage with a single microphone to tell their five minute story. At the conclusion, judges Trish McFarland, President of Delaware County Chamber of Commerce, Joe Divis, Executive Director AT&T, and John Tooher, Co-Founder HeadRoom, will provide a score for content and presentation. Storytellers with the highest scores will receive prizes from AT&T and HeadRoom.
Philly Tech Week takes place this year from April 29 through May 6. 2016 with events that are peppered throughout the city and suburbs. Delaware County Chamber of Commerce and AT&T are exclusively sponsoring seminars, workshops and events in Delaware County. For a full schedule, visit http://www.delcochamber.org . On Thursday, May 5th HeadRoom will present Startup Story Slam at the Delaware Bar Association. Storytellers and event guests are welcome. For FREE admission and additional information, please visit https://www.eventbrite.com/e/ptw2016-startup-storyslam-tickets-23178190592?aff=es2
# # #
HeadRoom exists at the intersection of premium office space, business collaboration and meaningful strategic planning for startups and small businesses. With convenient locations in Media, PA and Wayne, PA, HeadRoom provides unique advantages for suburban co-working. The HeadRoom team leverages their broad knowledge in business startups, strategic planning and their network of resources to help propel startups and small business forward. HeadRoom affords a business owner the opportunity to gain support working on their business while they are busy working in their business. For more information, visit http://www.HeadRoom.net ; http://www.HeadRoomStrategy.com ; and http://www.HeadRoom.net/Academy