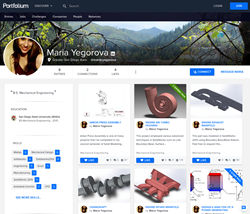 Portfolium has established a new, modern currency for jobseekers; one that values evidence of their skills over a summary of their experience
San Diego, CA (PRWEB) April 19, 2016
Portfolium, provider of the learning profile of record that helps career-bound students fill in gaps left by professional profiles and resumes, will be represented today by founder & CEO Adam Markowitz during a 10am pitch session at the Manchester Grand Hyatt (America's Cup A/B, 4th Floor) as part of the ASU GSV summit in San Diego, CA.
Markowitz will announce a new product called TalentMatch which enables deep matching between employers' jobs and a vast database of students' classwork, which - unlike a resume or professional profile - is rich with parsable evidence of workforce-applicable skills and competencies. Students' assignments and extra-curricular projects are housed in free, portable Portfolium accounts, which are indexed by TalentMatch. 3M+ students from thousands of colleges and high schools have uploaded coursework to Portfolium. Portfolium is the official career readiness partner of the California State University System, the UC System, and the 113-campus California Community College System, among others.
In order to validate the career-relevant competencies of students, Portfolium has also announced that it has launched an in-class assessment tool which was created in partnership with San Francisco State University. Faculty can can leverage the tool to superimpose competency rubrics on top of their in-class assignments, making a real connection between the skills sharpened by coursework and real world opportunity.
The addition of in-class assessment rounds out Portfolium's strategy of capturing, assessing, and unlocking the recruitment value of students' learning outcome data at massive scale.
"Portfolium has established a new, modern currency for jobseekers; one that values evidence of their skills over a summary of their experience," said Adam Markowitz. "Employers are excited about taking the risk out of hiring by matching against evidence instead of keywords."
About Portfolium
Portfolium partners with colleges & universities to help students transform learning into opportunity. Our network helps 5M+ students and alumni from over 150 partner institutions manage their skills and launch their careers. Portfolium's cloud-based platform empowers students with portable learning profiles that capture, curate, and convert skills into job offers, while giving learning institutions and employers the tools they need to assess competencies and recruit talent.