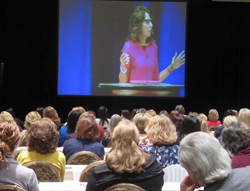 "Merced will become a low risk breast cancer zone and a center of health innovation." - Steven Carrigan Merced City Manager
Merced CA. (PRWEB) April 19, 2016
Nancy M. Cappello, Ph.D., Executive Director and Founder of two non-profit organizations, Are You Dense Inc. and Are You Dense Advocacy Inc., and Jim Drury, CEO of Life Saving Images Inc. a California based software and technology provider, announce the start of a pioneering breast cancer education and screening program to reduce late stage breast cancer in the beautiful city of Merced, California.
R.A.D.I.C.A.L.(TM) stands for Reducing Advanced Disease In Cities and Localities. The goal of RADICAL is to screen over 80% of the eligible women annually for five years, using advanced multi-modality technology and robotic ultrasound to improve detection of early stage breast cancer. Eighty percent annual screening is approximately double the current rate.
By adding personalized screening for dense breasts, the percentage of cancer first diagnosed as late stage will decline significantly based on results of clinical studies using mammography for women over age 40, and either ultrasound or MRI for women with dense breasts.
"One of the key advantages of RADICAL is employers are given a voice in the process as they pay a significant portion of the health bills and are directly hurt by high rates of late stage breast cancer both economically and through the loss of employees. The program also includes the input of local hospitals, physicians, universities, and breast cancer support groups," reports Jim Drury.
Merced was chosen as one of the first 10 cities in the program because of its strong sense of community and a progressive city government currently implementing significant improvements. Four other cities and localities who are adopting RADICAL will be announced later this month.
"The RADICAL program will help Merced achieve a very low risk of late stage breast cancer, reducing a major threat to our women, our families and our community," reports Merced City Manager, Steven Carrigan. "Merced will become a low risk breast cancer zone and a center of health innovation, which is one of our strategic goals. We are very supportive of these efforts to make Merced a leader in health and software innovation through RADICAL," continues Mr. Carrigan.
"RADICAL is a cutting-edge program providing women of Merced an opportunity for personalized screening based on their breast density and breast cancer risk," cites Dr. Cappello, a breast cancer survivor and the inspiration behind her home state of Connecticut enacting the first breast density reporting law in the county in 2009. "California became the fifth state to pass breast density disclosure legislation in 2012, and as the largest state in the U.S., California Legislators took an important step to improve the breast health of women. As of today, twenty-five states have density disclosure legislation with several more expected to pass legislation in the next few months," reports Cappello.
Life Saving Images is making the advanced technology and related software available to radiology practices and hospitals. Local board certified radiologists will read the exams and provide follow-up with patients and their local primary physicians. The program is made possible by the use of digital and tomosynthesis mammography systems, high speed robotic ultrasound guidance systems, along with very high resolution ultrasound systems and MRI systems.
Jim Drury, adds, "Once Merced physicians have screened women effectively with the latest technology available, these physicians will become well known national experts, and will help other physicians. The process is spreading much faster now that research shows high effectiveness, and we have significant advances in reporting and benchmark technology."
"Through RADICAL, the city of Merced is taking strategic and practical steps to reduce late stage breast cancer and be a leader in the state, asserts city manager Carrigan. We want families to choose to live here for the beauty of the area, the positive sense of community and because we have the highest quality medical care."
Research demonstrates that mammography and ultrasound used in high volume screening is cost effective as the reductions in late stage treatment costs for employers, insurance companies and local governments are significant.
"Currently, annual breast cancer screening rates across the U.S. are below 50%, and detection rates are much lower than they should be, causing the late stage cancer rate to be high and the death rate to remain high. With RADICAL we can help local hospitals and local radiologists screen entire cities and counties to fundamentally improve these metrics, and save lives," reports Jim Drury.
"I have yet to meet anyone against improving breast health using education and technology, and in turn, reducing later stage cancers and improving life outcomes. I am honored to work with the city of Merced and local providers to ensure that every woman has access to an early diagnosis," adds Dr. Cappello.
Local providers include hospitals, primary care physicians, and federally qualified community health centers.
###########
For more information:
http://www.LifeSavingImages.com
http://www.AreYouDense.org
http://www.AreYouDenseAdvocacy.org
Research:
Cappello, N. Decade of normal mammography reports – The happygram. Journal of the American College of Radiology, Dec., 2013.
Siegel, R., Miller, K, and Ahmedin, J. Cancer Statistics, 2016. CA Cancer J Clin.p.18, 2016: American Cancer Society
Tabar, L, Yen AM, Wu WY, et al. Insights from the breast cancer screening trials. How screening affects the natural history of breast cancer and its implications for evaluating service screening programs. Breast J: 2015
Tagliafico, A., Calabrese, M., Mariscotti, G, et al. Adjunct screening with tomosynthesis or ultrasound in women with mammography-negative dense breasts: Interim report of a prospective comparative trial. Journal of Clinical Oncology: 2016.