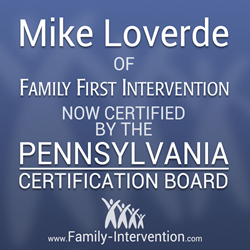 It's not just something you can pay for to put on your résumé. It's actually the only nationally accredited certification one can have for being an interventionist
Phoenix, AZ (PRWEB) April 20, 2016
Professional interventionist Mike Loverde, founder of Family First Intervention, recently earned his CIP certification, the newest highlight on his list of professional credentials.
CIP stands for Certified Intervention Professional. The CIP program was developed collaboratively by the Association of Intervention Specials and the Pennsylvania Certification Board, with the latter being the certificate issuer.
"I'm honored and gratified to have been awarded this certification," Loverde said. "It took a lot of hard work to earn it. You have to prove yourself worthy. It's not just something you can pay for to put on your résumé. It's actually the only nationally accredited certification one can have for being an interventionist."
"What this means for me and Family First Intervention is that when someone reaches out to us to perform an intervention, this certification ensures that I will adhere to the highest standard in my field. There are a lot of people out there who call themselves interventionists, but they have little experience, no accreditation and no professional liability insurance. You might save a buck, but you don't really know what you're going to get when you hire them. You don't have to worry about that with Family First Intervention."
In addition to boasting Loverde's CIP credential, Family First Intervention is also a member of the National Association for Alcoholism and Drug Abuse Counselors (NAADAC) and the National Association of Addiction Treatment Providers (NAATP), as well as an A+ rated company by the Better Business Bureau.
Family First Intervention was founded in 2008 and recently celebrating its anniversary, moving into its eighth year of being in business. The intervention group helps coordinate and facilitate interventions for addicts and their families, in addition to helping the struggling individual find appropriate treatment afterward. Family First not only performs interventions for people struggling with alcohol and drug addiction, but the company also works with individuals who are overindulging in behaviors such as gambling, eating, sex, hoarding and more.
Loverde and his team of qualified intervention counselors offer their services in all 50 states to anyone who is looking to convince a loved one to enter a rehabilitation program. Family First Intervention tries to pair its counselors' specialties with the characteristics of a specific intervention case. For example, a 50-year-old who is struggling with alcoholism will not be assigned one of Family First's younger counselors who specializes in hard drug addiction. Also worth noting is Family First is not tied to any specific treatment center in the U.S., so the company is able to professionally refer to any rehabilitation program on an impartial basis.
For more information about Family First Intervention or to begin setting up an intervention for someone you know, please visit https://family-intervention.com/.