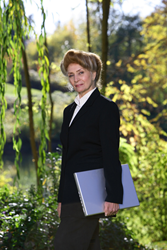 Grants Pass, OR (PRWEB) April 19, 2016
With warm, summer-like weather upon us, water and health advocate Sharon Kleyne will remind the public on an upcoming radio show that the best defense against the health effects of climate change and global warming, including sunburn and skin cancer, is good old sunscreen. However, Kleyne cautions, users should be aware of sunscreen's limitations and not make it their only sun protection.
Sharon Kleyne will discuss sunscreen, summer skin protection and health on the Sharon Kleyne Hour™ Power of Water® radio show of April 25, 2016. The globally syndicated, education oriented show is heard weekly on VoiceAmerica (Health and Wellness, and Variety Channels) and Apple iTunes. For podcasts of past shows, go to http://www.voiceamerica.com/show/2207/the-sharon-kleyne-hour
"Sharon Kleyne Hour® Power of Water®" is sponsored by Bio-Logic Aqua® Research Water Life Science®, founded by Kleyne and specializing in fresh water, the atmosphere, body surface evaporation, dehydration and education. The Research Center's signature consumer products are Nature's Tears® EyeMist® for dry eye and Nature's Mist® Face of the Water® for dry skin.
In this era of global warming, climate change and widespread drought, says Kleyne, sunscreen is becoming indispensable to avoid the harmful effects of solar radiation. Sunscreen lessens the chances of severe sunburn, dehydration, heat stroke, DNA damage, premature aging and skin cancers such as malignant melanoma.
The primary benefit of sunscreen is that it absorbs the potentially damaging ultraviolet (UV) radiation contained in sunlight. In addition to UV protection, the lotion in sunscreen creates a beneficial moisture barrier to slow or prevent the accelerated loss of the skin's natural water content through evaporation. The moisture barrier is important because direct sunlight and warm temperatures accelerate the rate at which water evaporates from the skin's upper levels. Accelerated evaporation causes the skin to become dehydrated, which weaken its resistance to sunburn.
The primary limitation of sunscreen, Kleyne explains, is that the moisture barrier can also cause a backup of toxins in the skin and body that would normally be excreted through the skin along with perspiration. The toxin backup can result in an inflammatory immune response that could be dehydrating and could actually increase the possibility of heat stroke.
Kleyne's advice? Whether or not sunscreen is applied, the body should always be well hydrated before going out in the sun and should remains well hydrated while in the sun and afterwards. In other words, drink more water.
The very best solar protection, according to Kleyne, is light, loose fitting clothing, a wide brimmed hat and shade. If the body begins feeling overheated, clammy, weak or dizzy, get out of the sun immediately and drink small sips of water until the problem subsides.
At the first sign of sunburn, cover up and then hydrate the skin with a pure water atmospheric mist such as Nature's Mist® Face of the Water® from Kleyne's Bio-Logic Aqua Research.
Apply sunscreen any time, summer or winter, according to Kleyne, if there is a chance that skin will be exposed to direct sunlight. Also apply immediately after a bath or shower, when skin is at its most hydrated. The sunscreen's moisture barrier effect will help the skin retain water no matter what the surrounding atmospheric conditions. Kleyne also recommends the use of make-up that has a sunscreen SPF rating.
For maximum body and skin hydration, says Kleyne, drink a minimum of eight glasses of fresh water per day, including two full glasses upon rising. Water is most beneficial when ingested in full glasses rather than sipped. Juice and tea, while beneficial, are not counted towards the eight glasses. Water containing large amounts of sugar, fat, caffeine, sodium or alcohol are dehydrating and do not count. Children ten or under should drink half their body weight in ounces per day. ©2016 Bio-Logic Aqua® Research Water Life Science®. All rights reserved.
Source:
Coata, S, "Sunscreen prevents (sic) skin cancer by 80 Percent," US News, April 18, 2016
http://health.usnews.com/wellness/articles/2016-04-18/spf-30-sunscreen-prevents-skin-cancer-by-80-percent