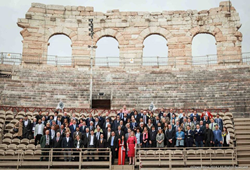 The contacts we made at Vinitaly were of a higher level, from Italy and abroad, visitors from the public were well- managed, and there was a great influx of specialized trade and press.
Verona, Italy (PRWEB) April 19, 2016
After a full agenda of wine tastings, seminars, competitions and courses in Verona, Vinitaly 2016 came to a close on Wednesday April 13; according to wine producers, the 50th anniversary of the world's largest wine event saw a notable increase in the caliber of trade and press attendees over previous years.
This year's edition of Vinitaly brought in 130,000 trade professionals from 140 countries, and the more than 4,100 exhibitors occupied a record 100,000 square meters of exhibition space. International attendance reached nearly 50,000, with 28,000 accredited buyers from abroad, a 23% increase over last year.
"Attendance numbers may seem low compared to past years, but that was precisely our goal: to make Vinitaly more business-focused than ever," explains Stevie Kim, Managing Director of Vinitaly International. "Vinitaly and the City was expanded to draw wine lovers away from the expo halls and into the center of Verona, with a program of wine, food, music and culture. Vinitaly and the City had 29,000 visitors this year, which allowed producers and trade at the fair to focus on sales."
Exhibiting producers – including many of those featured April 9 at OperaWine, the premier event of Vinitaly showcasing the 100 best Italian wines as chosen by Wine Spectator magazine - agreed that this year saw a marked increase in professional attendees.
"This edition of OperaWine was fantastic, even aside from the surprise concert by Sting!" says Michele Bernetti, of Umani Ronchi. "OperaWine has grown in the past few years, with trade and press from all over the world. The contacts we made at Vinitaly were also of a higher level, from Italy and abroad, visitors from the public were well- managed, and there was a great influx of specialized trade and press."
"This was definitely the best edition of Vinitaly in a long time," agrees Michele Gianazza of Lvnae Bosoni in Liguria. "We received many positive comments from our clients – including limiting access to members of the trade. We hope for more years like this!"
"We were very satisfied to be again invited to participate in the tasting of the finest wines in Italy at OperaWine," says Raffaela Bologna of Braida in Piedmont. "Enologist and owner Giuseppe Bologna was pleasantly surprised by the influx of so many members of the Italian and foreign press, sommeliers, and international buyers!"
"OperaWine was a fantastic opening for Vinitaly's 50th edition – it continues to capture more attention from foreign and domestic trade and press," says Marco Caprai, of Arnaldo Caprai in Umbria. "Vinitaly had the same mood – very busy but with a significant increase in important trade members."
"Once again this year OperaWine proved to be a prestigious event for the Italian wine community, as was the 50th edition of Vinitaly, which included a greater presence of trade professionals," concurred Roberto Fellugia, of Marco Felluga and Russiz Superiore, Friuli Venezia Giulia.
"For us, OperaWine is the best event of the year for Italian wine," agree Gianfranco and Simona Fino, of Gianfranco Fino estate in Puglia. "And this was a special year for Vinitaly – with a greater number of national and international trade."
"Being part of OperaWine for us meant being part of Italian wine excellence on the world stage," say Valter Fissore and Nadia Cogno of Elvio Cogno in Piedmont. "The attendees at this edition of Vinitaly were more attentive, informed, and professional than ever, allowing for successful business meetings."
"An incredible Vinitaly! For its 50th, Vinitaly demonstrated that its long history and years of experience have allowed this very important wine event to overcome some of the challenges it has faced in the past," says Raffaele Boscaini, representative of the Masi estate in Veneto.
"The first thing that stood out was the increase in trade as well as a decrease in regular visitors," agrees Cristina Mariani-May, of the Banfi estate in Tuscany. "This is fundamental for our job as exhibitors and for the success of the fair. The visitors were also quite international, with an increase in Americans, Europeans and Asians."
Not only the largest producers, but smaller wineries celebrated this year's edition, including those present in the ViViT (Vigne Vignaioli Terroir) and FIVI (Federazione Italiana Vignaioli Indipendenti)areas. "VIVIT proved to be a living and energetic space for natural wine within Vinitaly," says Nely Webber, representative of Elisabetta Foradori, in Trentino Alto-Adige. "The presence of high numbers of visitors within the space demonstrated that the message we're sending of wine tied to the territory has been received."
"We are constantly striving to improve Vinitaly, so it is a tremendous honor to receive this feedback from winemakers." says Stevie Kim. "We began this 50th edition of Vinitaly on April 1 with our international wine competition 5 Star Wines, and our new natural wine competition Wine Without Walls, followed by the second year of the Vinitaly International Academy Certification Course, Vinitaly and the City, OperaWine, and then Vinitaly. This year we enjoyed a surprise concert by Sting, one of our OperaWine producers; a visit by the President of the Republic, a discussion between Prime Minister Renzi and Alibaba founder Jack Ma; and VIA executive wine seminars with a number of prestigious winemakers: Zind Humbrecht, Jean-Claude Berrouet, and a tribute to the late Giacomo Tachis. Our offering continues to grow and diversify, but always in the service of the same goal: to help sell one more bottle of Italian wine."
About:
Veronafiere is the leading organizer of trade shows in Italy including Vinitaly (http://www.vinitaly.com), the largest wine and spirits fair in the world. The next edition of the fair will take place on 10 - 13 April 2016. Since 1998 Vinitaly International travels to several countries thanks to its strategic arm abroad, Vinitaly International. In February 2014 Vinitaly International launched an educational project, the Vinitaly International Academy (VIA) with the aim of divulging and broadcasting the excellence and diversity of Italian wine around the globe. VIA has now also organized a Certification Course with the aim of creating new Ambassadors of Italian Wine in the World.
# # #