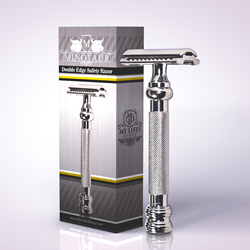 Timeless Design Aimed at Providing the Classic Experience of Yesteryear.
Seattle, Washington (PRWEB) April 21, 2016
'MyLifesDesign' today announced the launch of its special D.E. Safety Razor on Amazon - named the Minotaur. To celebrate the Amazon launch, the company is offering a 50% discount throughout May. Wet shaving for men has gone through somewhat of a renaissance lately. MyLifesDesign takes great satisfaction in offering the essential, and necessary tools to enhance the shaving regime. 
According to Founder, Gus Hess, "The bathroom can be a relaxing playground of indulgence: In our own personal haven, small details can make all the difference. Poor quality implements detract from this experience, which is why we are offering this stylish, classic safety-razor to define the new pleasures to be found in wet shaving."
The D.E. Safety Razor is long-handled and perfectly weighted. Only quality materials, such as brass and chrome have been used, ensuring a lifetime of rustless use. As an added bonus, MyLifesDesign have included a complimentary set of razor blades with the product.
Mr Hess points out that; "Discriminating customers take pride in their daily habits and see time spent in the bathroom as an enjoyable act of preparation as well as a mark of self-respect. Experiencing a perfect, smooth shave adds pleasure and confidence to a person's day". Competitors such as the Merkur and Parker often sell for two or three times this price. MyLifesDesign D.E. Safety Razor offers much better value for the astute wet shaver.
MyLifesDesign is a family business. They specialize in providing high-quality bathroom accessories and tools "for those who expect a little more from life." MyLifesDesign offers a 2 year guarantee with all their products.