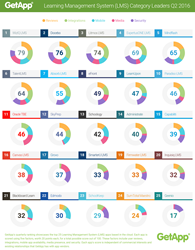 WizIQ LMS proved to be a favorite among GetApp reviewers, scoring a perfect 20 in this data point, helping it stay on top of the rankings
Barcelona (PRWEB) April 22, 2016
GetApp has unveiled its Q2 2016 ranking of the top 25 learning management system (LMS) solutions. WizIQ LMS headed the rankings, with Docebo and Litmos LMS hot on its heels in second and third place, respectively.
The ranking, from cloud-based business app marketplace GetApp, is designed to help small to medium businesses make a more informed choice when selecting LMS software.
It is calculated using five different factors – integrations, media presence, security data, mobile apps, and reviews from users – each of which carry a maximum score of 20 points, adding up to a potential total score of 100.
"WizIQ LMS proved to be a favorite among GetApp reviewers, scoring a perfect 20 in this data point, helping it stay on top of the rankings. Docebo and Litmos LMS led the way in the integrations space, with both apps scoring a maximum of 20 points, while Canvas LMS had the highest rated mobile app, with a score of 19. The honours for best security score went to 4th place ExpertusONE LMS, with a score of 20," says ranking project manager Suzie Blaszkiewicz.
Click here to see the Q2 2016 ranking of the top 25 cloud-based LMS apps in full.
More about GetApp: GetApp, a Gartner company, is the leading premium business app discovery platform on the web. Headquartered in Barcelona (Spain), GetApp serves as a platform for user-generated and editorial reviews of software and apps for businesses.
###