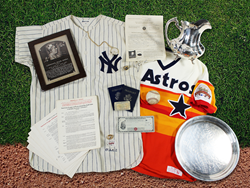 NEW ROCHELLE, NY (PRWEB) April 26, 2016
The New York Yankees' Hall of Fame catcher Yogi Berra was famously known for saying: "It ain't over 'til it's over." Well, for the great Yogi Berra's legacy and Steiner Sports Marketing, Inc., a world leader in sports and entertainment marketing, events and memorabilia, things are just getting started.
Brandon Steiner, Founder & CEO of Steiner Sports, announced today that his company had acquired the exclusive licensing rights to Yogi Berra's name and likeness directly from the Berra family, as well as the rights to market the remaining pieces of the Yogi Berra memorabilia collection. In conjunction with these Berra deals, Steiner also revealed that he has hired long-time sports attorney and licensing expert Ed Schauder to serve as the firm's Executive Vice President/Licensing & General Counsel. Schauder's initial responsibilities will consist of the management of the Yogi Berra licensing program and other licensing accounts, as well as the creation and growth of a new licensing division within the company.
According to New York Yankees historian and former team public relations director Marty Appel, with the team's on-field personnel wearing Berra's #8 on their jerseys this year, this marks only the third time in team history that a deceased player's number will be worn on the team's uniforms. The previous ones were #5 (Joe DiMaggio) and #7 (Mickey Mantle). But Appel also pointed out that since the Yankees began wearing the #8 on their uniforms last September, this is the first time a number on the jerseys has been carried over from one season to the next.
"Steiner Sports," noted Steiner, "is extremely proud and honored to be able to represent someone who is not only one of the greatest and most popular Yankees of all time, but a true baseball legend. We believe Yogi's memory and legacy are in great hands with us, and we look forward to working closely with the Berra family on all projects to come."
Steiner continued: "We are also thrilled to have Ed Schauder join our team. He brings many years of experience, expertise and outstanding relationships in the field to his new position at Steiner Sports, and I am quite confident that he will significantly expand and elevate our business."
The Berra Family added: "Our dad had a special relationship with Brandon Steiner and we as a family decided that he and Steiner Sports would be an ideal fit for us to carry on Yogi Berra's legacy. The combination of Steiner's relationship with the Yankees and their sports marketing expertise made it an easy choice. We look forward to a long and meaningful relationship with them."
For more information about Yogi Berra and other licensing opportunities with Steiner Sports, email Ed Schauder at: eschauder@steinersports.com; or call him at: 914-307-1130 (office) or 917-907-1404 (cell).
About Steiner Sports Marketing
Steiner Sports specializes in helping companies use the power of sports to grow their business. The company has spent more than 25 years building relationships with in excess of 2,000 athletes; national relationships with the major sports leagues; and partnerships with the best teams in sports. These associations are the foundation for the unique sports experiences they provide. Steiner Sports is also the leading producer of authentic hand-signed collectibles.
Media requests and questions should be sent to Ira Silverman at irahsilverman@gmail.com.
# # #