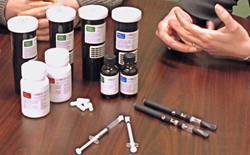 It's been a pleasure serving the Suffolk County community and being able to offer legal medical marijuana evaluations to patients, who truly benefit from it, says Dr. Chan
Bayport, New York (PRWEB) April 21, 2016
According to the Center for Disease Control (CDC), "78 Americans die every day from an opioid overdose and at least half of all opioid overdose deaths involve a prescription opioid." When compared to the exceptional safety profile of medical cannabis, opioids have a much higher risk of abuse and dependency and commonly cause adverse effects including nausea, constipation, or other gastrointestinal issues necessitating another drug to combat these medically induced ailments.
Enoch Chan M.D. of Long Island Best Choice Medical based out of Bayport, Suffolk County introduced legal medical marijuana evaluations and certifications into the scope of his practice to provide a safer alternative to conventional pain management treatment options, especially for patients, who are unable to tolerate the commonly prescribed opiate pain medications usually due to allergies or a complex medical condition such as irritable bowel disease (IBD) or Crohn's disease, or have a deficiency in liver or kidney function. As an internist, who has been in practice for over 20 years, Dr. Chan understands that there is no one-size fits all treatment plan for any given ailment.
After participating in the New York Medical Marijuana Program as an approved certifying physician since it began earlier this year in January, Dr. Chan has seen the versatility of medical cannabis in treating a diverse number of conditions and ailments. Dr. Chan and his team at Long Island Best Choice Medical are excited to be at the forefront of medical marijuana treatment and finally offer a naturally therapeutic option for eligible patients.
Any patients interested in finding out if they meet the minimal requirements as set forth by the New York Compassionate Care Act, may submit an appointment request to see Dr. Chan using the MarijuanaDoctors.com nationwide booking platform, https://www.marijuanadoctors.com/doctor/book/index/1686. Long Island Best Choice Medical is wholeheartedly committed to providing compassionate and personalized care with the aim of improving the overall quality of life.